Twelve year old ventriloquist, Darci Lynne Farmer, wins America's Got Talent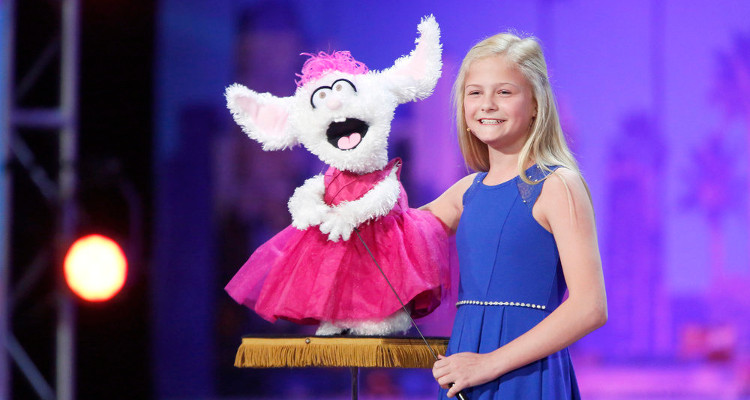 Twelve year old Darci Lynne Farmer, an aspiring ventriloquist from Oklahoma, won America's Got Talent on September 20, 2017.
Darci Lynne Farmer began her America's Got Talent competition strong as she won the hearts of the crowd and the judges with her ventriloquist dolls and her amazing clenched mouth singing that truly showcased her talent.
Her first performance on America's Got Talent featured her spunky bunny ventriloquist doll named Petunia. She also sang with Oscar the Mouse and Edna Doorknocker, who serenaded Simon Cowell.
As her initial performance came to a close she received a standing ovation and the surprise of a lifetime as judge Mel B exclaimed, " I'm trying to describe how amazing it was!" In that instance judge Mel B stood up  and slammed down on the golden buzzer.
Darci would continuously amaze the judges as the competition continued.
For her finale performance Darci was joined onstage with a pair of familiar dolls, Petunia the diva bunny from her golden buzzer performance and Oscar the lovestruck mouse from her secondary performance.
Her act began with Petunia and Oscar fighting over who would sing first, as they continued to bicker Darci exclaimed "Guy's! You shouldn't fight you need to work together." As a well wrapped introduction to their song they begin to sing the beatles classic, (with a lil help from my friends).
The performance was spectacular and impressed the Judges as she never even made a mistake.
Mrs.Dunn a English teacher at Naugatuck High School and AGT fan described the performance as being "beyond anything I have ever seen…she is the only one that actually makes me want to watch this show."
According to People Magazine, Farmer said, "You know, I can't even explain it. I was so overcome with joy and happiness and shock. Just seeing my friends and family, and the judges came up and gave me great big hugs. I felt so much joy and happiness and my crying pretty much explained it all."
Farmer will receive one million dollars and her own show in Las Vegas as prizes for winning the season.