Rapper releases a loathsome video that falls short of its intention
Hang on for a minute...we're trying to find some more stories you might like.
Newly famous and deranged rapper, XXXTentacion, or Jahseh Onfroy, is receiving widespread and warranted backlash for depicting a white child lynched in his new video. Onfroy released his music video for hit song, "Look At Me!" on Tuesday, which displayed these disturbing images.
The music video opens up with a white male teacher being beaten and killed, while the class draws and dances on his dead body. More scenes of police brutality and riots follow this disturbing image.
It is bizarre how Onfroy wants to tackle racism but chooses to show innocent people, like teachers and children being brutally murdered instead of people who actually propagate racism, such as the KKK. If it were a clansman being hung, or a neo nazi, this would be a different story. Violence against those who hate would show how he is against racism, but, by choosing to portray the murder of innocence,  he is just adding to it.
Twitter exploded in response to the gruesome video.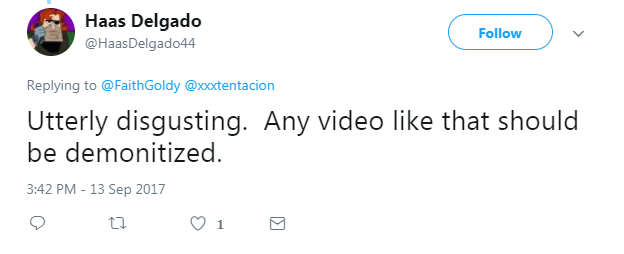 Following the riot in the classroom, scenes are depicted of police brutality, including those incidents with Rodney King, Eric Garner and  Michael Brown. These incidences, perhaps, need to be exposed, but they are only minimized by the hypocrisy.
But the most disturbing part of this atrocity of a music video was when Onfroy stood on a stage with a young child of color and a young white child, took a noose, and placed it around the white boy's neck.
Onfroy then pulls on a stage rope and the little boy gets lifted off the ground.
Onfroy then pulls the little black boy aside and begins to read a passage on equality to him.
Equality is what this maniac is trying to push on his fans, but he is not successful. His positive message is lost in the tragedy of the images.
This is the same human being that was charged with gun charges, robbery, witness tampering, assault with a deadly weapon, and aggravated battery on a pregnant women.
What Onfroy is preaching is equality, but when does murder ever make anything equal? The only thing Onfroy is doing is adding to a racist agenda and further dividing the country.
Talk about equality, beating women and robbing stores. What a great role model!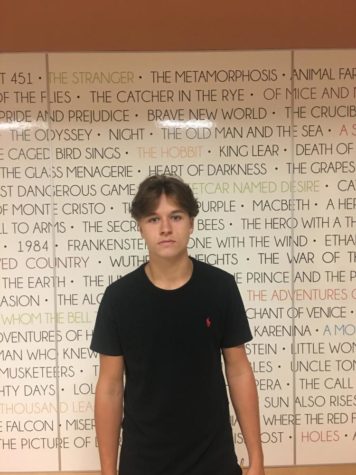 Zachary Crosswait, Staff Writer
I am in 10th grade. I would like to join the military. I like to write and I feel like there's too much "Fake News" in the world. Somebody needs to the...