"The Lion King' cast is announced
Hang on for a minute...we're trying to find some more stories you might like.
November 1, 2017 The Lion King remake cast — which hasn't been expected but is greatly appreciated — has been announced. A leak came out where the director Jon Favreau and Disney were counting on Beyonce to voice act the role of Nala in The Lion King. And now, Bey has confirmed the news through her Facebook page.
The Lion King is scheduled to be released on July 19, 2019 and, although that is such a long time to wait, with the cast announced we know for sure that this film will be worth the wait.
Since Maleficent in 2016 and The Jungle Book in 2014 Disney has done real well with its remakes of movies based on the original and this new one that is coming up is not gonna be a let down.
Jon Favreau, who directed the hit The Jungle Book, has come back to impress us once more with another live action remake.
"To have something feel like it was created by nature and not machinery, that was much more ambitious."
With these words said by Favreau himself we know that he won't let us down. He succeeded in making a live action movie give off a real life feel, and he will do it once more using action movie technology and turn it into a heartwarming story.
Especially with the big American singer, songwriter, dancer, and actress Beyoncé Giselle Knowles-Carter.
The Lion King is scheduled to be released on July 19, 2019 and although that is such a long time to wait with the cast announced we know for sure that this film will be worth the wait.
Just the cast release alone will make anyone want to pick up a ticket.  
The film will stars Donald Glover, who will voice Simba, and Beyoncé, who will voice Nala. They both will be headlining the film. Hearing these two stars performing the hit "Can You Feel the Love Tonight" will be a wonderful moment.
The man to be voice acting for Mufasa is James Earl Jones, who was the original voice actor when the film first came out.
Chiwetel Ejiofor, a British Actor, will play the role of the villainous Scar, bringing his calm voice to match the tone of Scar's, 'bad guy' tone. Eric Andre, Florence Kasumba and Keegan-Michael Key will voice the hyena henchman. Creating the funny yet strange characters that we all enjoyed.

Timon the loveable Meerkat will be voiced by Billy Eichner, 39, who is most famous for his work on "Difficult People" .
Seth Rogen the 35-year-old Canadian-American has the pleasure of loaning his voice to Pumba, a funny gaseous Warthog. A match that most people will say is perfect for him. The original voice actors for the 1994 film are coming back to make a great production of the new live action film.

John Oliver the British comedian will voice Zazu. John Kani, a relatively unknown South African actor, who will play Rafiki, the old baboon who has the voice and mind of wisdom.
Alfre Woodard an American film, stage, and television actress, will be playing the role of Simba's nurturing mother Sarabi. She is also a mother herself so this role will not be hard on her at all. JD McCraray a 9 year old actor will play young Simba, and Shahadi Wright Joseph an actor, dancer, and singer will be the voice for young Nala.
Marina Sounanthanam, a student at Naugatuck High school speaks on how previous Disney movies when remade the cast were not "Racially represented or appropriately represented, racial minorities and ethnicities." Now after seeing the cast selection for this film she says," The casting is very appropriate, and racially appropriate."
The casting is very much indeed unique and will create a new outlook and new atmosphere on the audience. Excited is one word to put on the feeling of this new film coming out. "White washing" has recently been a problem for remakes, as the characters selected for movies were not of the correct racial background.
For this live action movie that won't be the case. The cast was well selected and high hope is put out for the upcoming new film, The Lion King, 2019.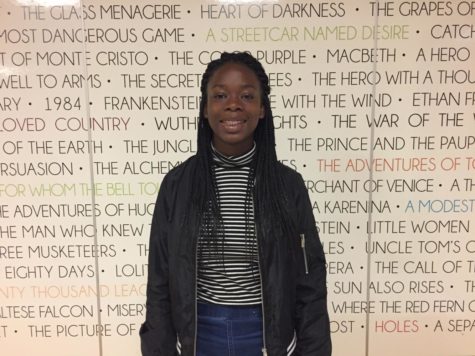 Nadage Beausejour, Staff Writer
I am in 12th grade. I would like to explore journalism, law, or psychology. I want to know more career-wise and I love to write. Plus, I am very curious...