Celebrating Women's History Month – the woman who protects and inspires us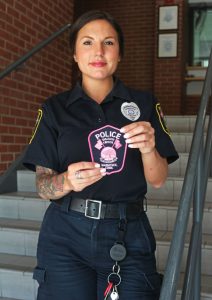 In 1972, Congress passed an amendment which prohibited the states of discriminating based on gender for filling jobs.Women now have the power to apply for and earn jobs based solely based on their qualifications, even for physically demanding and dangerous jobs.
One woman who has taken great advantage of this law is Ms. Rebecca St. George, who is  secretary of the police union and Naugatuck High School's resource officer.
Officer Rebecca St. George attended Central Connecticut State University for one semester;  she then finished her education at Tunxis where she earned her associate's degree. Later, she earned a major in history and a minor in sociology in Florida.  She is currently attending school at UNH working to receive her masters degree.
St. George has been working in law enforcement for four years and her ultimate goal since she was a little girl is to work at the federal level.
Female law enforcement officers around the world have had a hard time not only being hired but also receiving the recognition they deserve when they are on the force.
"With the public you can see people gravitate mainly to the man. On scene they want to talk to him and they don't want to talk to me. I learned you have to assert yourself to prove yourself in this field. You have to make sure everyone around you knows that you can do the job just as well as a man can."
With that being said, being a female has never gotten in her way if she has her mind set. She has accomplished so much in her career that makes her stand out against any man. She works closely with local lobbyists. Currently she is working on a mental health and wellness bill for first responders. She was just published in a national newspaper which talked  about her bill.
"Women's History Month, to me, means supporting each other and building each other up instead of tearing eachother down; sometimes we forget that we are all in this together."
Officer St. George is an empowering woman in the Naugatuck High School community; yet she does not realize all of the young women she inspires.  She has powerful words that are extremely inspiring to young women who want to pursue careers in law enforcement.
"Don't let anybody make you feel like you can't do something that you put your heart into." "As long as you put your mind to what you want to do you can do it."
"So many amazing women in this building have inspired me, Mrs. Cammarata, Ms. Crosswait, Ms. Bradley, Mrs. Rich … All of the women who work here. I am so lucky I get to be with them they are all fantastic. In my personal life, my mother has been my inspiration all of my life."
Women all around the world have been influential and inspiring to the lives of young women in our community. Yet it is tremendously inspiring and gratifying when someone you see and talk to everyday has the power to show you can do whatever you set your heart to when you push yourself to be the best you can be even when all of the odds are against you.