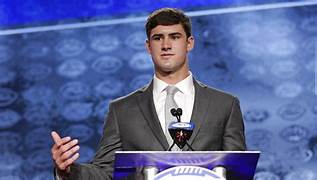 accsports.com
After an abysmal performance from 2x Super Bowl-winning quarterback Eli Manning in last week's 28-14 loss to the Buffalo Bills, the New York Giants named 6th overall pick Daniel Jones the starting quarterback on Tuesday. The change was bound to happen eventually, but most fans expected it to happen in the latter half of the year. 
Jones, a quarterback out of Duke University, faced a ton of adversity after the 2019 NFL Draft after many fans did not believe he deserved to be picked 6th overall; but, after going 29 of 34 for 416 yards and 2 touchdowns, fans are feeling a bit more confident in the young signal-caller. 
"Ultimately, this is a move that I felt was the best for the team at this time." he said. "This move is more about Daniel moving forward than about Eli," said Giants Coach Pat Shurmur in his statement about the switch. 
Daniel Jones spoke about the advice he received from the 2x Super Bowl-winning quarterback about making his first start. He said that Manning's message was to, "Not try to be perfect. Not try to get the perfect call or the perfect check every time. Get on the same page, be clear in the huddle, and be confident, and go with it. 
"That was tremendous advice. I'm a first-year player. I need that."
Fans are hoping that the switch to the rookie quarterback will allow for the Giants to vault into the win column after starting 0-2 this season and for the sixth time in the past seven years. It is believed that Jones will bring a new dimension to the Giants' offense as he is much more mobile than 38 year old Eli Manning. 
Giants fans will sit in anticipation as Jones and the Giants go to Florida to take on the 1-1 Tampa Bay Buccaneers on Sunday, September 22nd at 4:05 ET.