Sunset Farm promotes health and life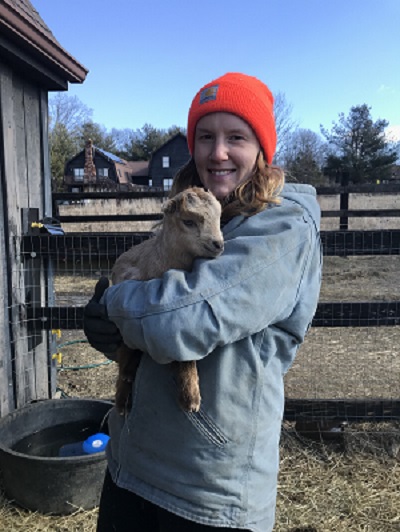 Ms. Kaitlyn Kimball, an English teacher at our school, owns a farm, Sunset Farm on Andrew Mountain Road.  She and her fiance purchased the property a few years ago. Ms. Kimball loves to be a helpful and healthy part of the Naugatuck community.
She and her fiance grow all kinds of vegetables (except corn) and a couple of watermelons. She also owns a slew of farm animals. Among them are chickens, ducks, two mini donkeys, and a lot of goats, and cats and dogs  round off the list. 
Recently, one of their goats had triplets, which brings even more energy to their lively farm. 
"It's great. It's really motivating. It's a nice look to spring. It's been dark and cold, so it just reminds me that it'll be warm and there'll be new life growing before we know it," Kimball told The Greyhound News.
They have their chickens and ducks for eggs to sell, and also because they eat bugs and help break up the soil. The donkeys are mainly kept to protect the chickens and ducks. They're loud and scare away coyotes and other predators. The goats are mostly pets, but Ms. Kimball occasionally uses their milk for soaps.
Ms. Kimball treats all of the life on her farm a bit differently than most farmers. After starting to raise her own animals, she has become vegan.
"I was eating meat, a little bit, and I stopped eating meat permanently after I raised my own animals because I could not kill one of the animals that I've raised, so I'm not going to eat meat anymore." 
She believes a lot of people are disconnected from where their food comes from. 
Owning a farm is hard work and Ms. Kimball says it's really helped her and her fiance's personal values come out. She believes the farm has helped them to define who they are more.
"Farming should be sustainable, so it shouldn't take more than it gives." 
She believes farming should be enjoyable. She and her fiance hope to have a family someday, and that farming would be something for them to do together. She also believes farming should be community-centered. Even though she's running a business, Ms. Kimball sees it as a way to engage her community. It's a way for them to connect with people they might not otherwise meet. She's had neighbors over and people from the school. She also sees it as an opportunity to educate people about the farm and thinks it's nice to connect on that level.
"Seeing the new triplets and experiencing the joyful life on Sunset Farm was an amazing experience. I would encourage everyone to visit and experience a farm. It was a valuable lesson," said Mrs. Carolyne Dymond, another English teacher who has visited the farm.
Ms. Kimball and her fiance currently want to keep their farm small and have no plans for expansion. Currently, only she and her fiance care for the farm; they have no other employees. Their farm is a comfortable size for them.
Her advice for other people is to think about their passions and what they really want to do, and find a way to incorporate that more into their daily lives.
Ultimately, it seems like Ms. Kimball has definitely reaped all the love and kindness she's sown.