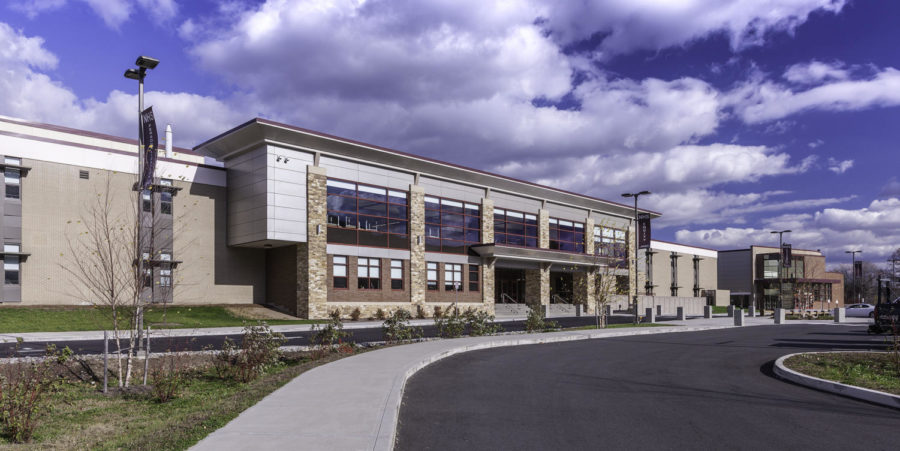 O&G Industries
One game is all it takes to make it to the playoffs or to end your season. But one game can also pull a team together so tightly that they become family all over again and the Greyhounds just had that game on October 29th against Holy Cross.
This game was a true test for the team; the odds were against the Greyhounds even though they aren't an easy team to beat. Yet they gave a fierce fight that left many people on the edge of their seats. They stood strong and never gave up in any of the 4 quarters. 
The game started slowly for the Hounds as Holy Cross struck first with a 23-yard touchdown pass, making it 7-0. This made the Hounds' already large flame grow even more as they shook off the touchdown and went right back to playing hard. After scoring late in the 2nd quarter and tying the score, the Hounds were itching to get back out there. 
"We were more patient to see where we could attack, and once we got into a groove we didn't stop," said number 38 Michael Dietelbaum. "After our first touchdown drive, we really took it to them. I saw them and they got tired. I felt we put some fear into them, and after that, we controlled the game."
During halftime, the Hounds weren't taking their foot off the gas even in the locker room. "The locker room at halftime was just ecstatic," number 30 Jet Hall said. "We hadn't won yet, but we felt like we won, and we were just going crazy and celebrating."  The Hounds started off strong in the second half with a 34-yard run to set up a 21-yard field goal by number 19 Dominic DeSousa, though on the Hounds' second possession of that quarter they had to punt.
The punt was a whopping 51-yarder by Dominic DeSousa and it drastically changed field possession, pinning the Crusaders back at their 14-yard line. After a great defensive period from the Hounds, they took over at the Holy Cross 37, and then two plays later Deitelbaum was able to score a 30-yard run for a 17-7 lead.
The game was sealed by the Hounds' defense the moment the Crusaders snapped the ball. David Bien intercepted a Drew Caouette pass and returned it 35 yards for a touchdown and a 24-7 lead, actively finishing the game. Though the Crusaders were able to score again, that meant nothing to the Hounds as they went on to win 24-14. This game really helped the young Naugatuck team finally become a united team, a team that Coach Chris Anderson is very proud of.
"The second half we played really tough," Naugy coach Chris Anderson said. "Defensively it was all 11 guys: the guys in the trenches taking on double-teams, the linebackers filling the holes and making plays, and the whole secondary playing really strong man-to-man coverage."  Anderson went on to say that the team really needed to win this game to better show the true potential of the Hounds.
"If you want to be a somebody, you have to beat a somebody, and Holy Cross certainly is a somebody," Anderson said. "Falling behind, 7-0, it is not easy for a team that doesn't know if they are good or not to overcome. But our kids were resilient and battled for four quarters." We can definitely see that Naugy finally became somebody and as they prepare for their next big game against Woodland at home after dealing with Wolcott, we'll see how they'll change again.