Columbian – FARC treaty is voted down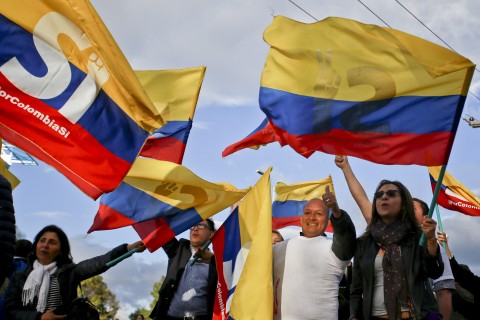 On October 2nd 2016, the Colombian government held a peace agreement that would settle the dispute between the Colombian government and the Colombian guerrilla group The Revolutionary Armed Forces of Colombia (FARC). The peace agreement would end fifty-two years of conflict within the nation.
The Revolutionary Armed Forces of Colombia was founded in 1964 when Colombian Communist Party (PCC) member Manuel Marulanda, and guerilla Jacobo Arena formed FARC together. FARC originated from a decade of civil war, known as La Violencia. FARC Rebels felt neglected by the government because the Colombian government did not aid the people who lived in the countryside, and did not protect its citizens.
The referendum was left in the hands of Columbia to vote yes for acceptance of the peace agreement and no if they reject the agreement.
Preliminary polls have estimated that 66% of the population will vote yes.
A total of 6,430,708 Colombians voted regarding the peace deal. To the surprise of the population, 50.2% of vote went to the no camp and 49.8% went to the yes vote.
With the result many Colombians are left confused about the future of their country and its ongoing conflict with FARC.
With the rejection of the peace deal, the Colombian government and FARC leaders are left to rethink a possible solution to this conflict that is acceptable to all parties.
Both sides have agreed to a ceasefire. Many Colombians feel that the deal is unjust because it has been estimated that 220,000 people were killed in 52-year conflict. FARC rebels have performed high-profile kidnappings, hijacked planes, made millions trafficking cocaine and forced children to fight.
According to an interview conducted by CNN with Ana Maria Avello, a Colombian voter said, "We are not convinced the peace agreement will bring peace. We are convinced that it will bring more war to Colombia. Because injustice brings more war. The only thing we want is justice."
President Juan Manuel Santos has called for meeting in Bogota to decide what is the possible next step to end the conflict.
Many questions are being asked about the future of Colombia, yet one thing for sure is that the people of Colombia as well as the FARC Rebels want peace.