Parents must be aware of social media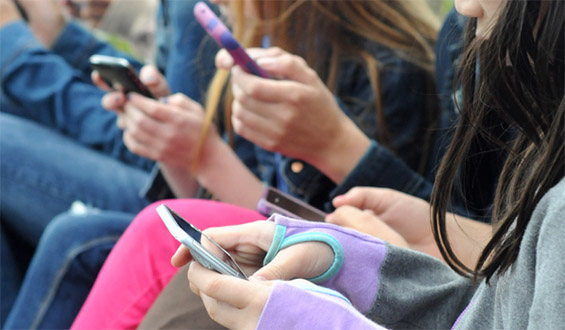 The internet has improved a lot throughout the 2000's with social media or just technology in itself, and it continues to impact our daily lives. This new pervasive culture impacts the lives of teenagers especially. So what do parents need to worry about as their children surf the world wide web? Specifically, teenagers's sexuality is put at risk increasingly as technology advances.
Cell phones are taking its toll on the world and also with teenagers. According to Christine Elgersma from Common Sense Media, aach teenager's phone has about six social media apps. Ninety-nine% of teens use the internet says ikeepsafe.org. The problem isn't the internet itself, it is what is on the internet that is concerning.
The social media world consists of websites such as Twitter, Facebook, Instagram and apps that will connect to strangers, allowing adolescents to speak and share information with them. Twitter is the only one that has an anti-bullying clause in their terms and services description. This was put up after twitter a user through hatred at Ghostbusters actress, Leslie Jones.
After the airing of the movie, the user by the name Milo Yiannopoulos targeted Jones by posting that she was "a man with t***" and "black dude." The actress fired back at Yiannopoulos going against his racist claims and asking her followers to "ask many black women you follow on any social network [if they too are bullied]. Social media companies allow plenty of abuse."
Bullies are just the half of the problem that social network brings to the table; parents should be more worried about how the internet is affecting their teens' bodies, either if it is adolescents seeing girls who exude sexuality or being bullied for their own body type,  which can cause body dysmorphia.
Monarch Cove's a treatment clinic for teens says over time bullying on body appearance can lead to psychological disorders such as anorexia and other eating disorders to make themselves appear better to the eyes of their peers.
Michelle Dunn, English teacher at Naugatuck High School agrees by saying "I think the way that social media is gives these people an advantage to take advantage of others' comfort zones."
This comes down to if teens wants to seem more sexually attractive to their peers and others people who scroll across their pictures that are displayed on their social media accounts. Arianna Michaud of Naugatuck High School says, "Teens tend to change their look to appeal more sexual to others because we as people who are just trying to fit in feel forced to fit into the ideal look of society, which if you don't (fit) into that society you're automatically ugly."
The problem with appearing more sexual to the public is the people who are seeing the photos and statuses of the teens. Online predators have skyrocketed throughout the several years that the internet has developed and continues to be common day problem.
According to ABC News, 10 out of every 17 teenagers say that they have experienced online sexual harassment. The harassment ranges from sexual comments, pictures of themselves nude and asking to meet up to perform sexual acts.
Although most of the harassment is online, you wonder what causes these strangers to contact the teenagers. Dunn thinks it is because once a teenager enters the online world they create an alter ego that isn't their actual true self.
Madi Rubalcaba of Central High School thinks' "Predators prey on teens online because it is easier to hide behind a computer plus teens are more trustworthy of people online."
Could this be a problem that teens are more trustworthy of people online? Michaud thinks this is a serious because "you never know who you are talking to, they can be catfishing you."
Catfishing is a new term for people who make fake accounts online or tell people contacting them things that don't really associate with them.
Back in 2014 a 12 year old girl was kidnapped and sexual assaulted twice by a 32 year old man that she was communicating with over an app "kik." On the social networking app she was not posed as herself but as a teenager who still lived with her parents. She would tell the men that her alter ego would "never leave" them and gave out her address to the random men she met online.
The 12 year old knew she was going to be kidnapped when it was investigated. On her cellphone a conversation between her and another man she was contacting that she was leaving and scared because the predator told her he was going to kidnap her. When the other person said that he doesn't know where she lived- she replied with "I told him my address."
It is no doubt that our world of technology has become more advanced and popular among younger children of the ages 10-17 but they aren't using their cellphones to just call people. They do feel more trustworthy of people who they do not need to see in person or ever get to encounter.
Over a decade ago a 10 year old was kidnapped from his home and put into a ring of online child porngraphy photographers. The possession of child pornography is a federal law and will get you up to 5 years in jail. With intent to sex traffic children you will get life in prison, or possible death penalty.
One thing parents are worried about with their teens online is that a small group of people, some psychologists, are trying to normalize the concept of pedophilia. RedState spoke about this movement and had a letter written by a pedophile. In the letter the person spoke up about even if he is attracted to younger children he would never be in possession of child pornography or do any acts to forcing himself on a child. Though parents have read that article is said they "don't trust it" and they "still don't want them to have any communication with my child."
Tracey Blackman of Jane Doe No More, an organization that allows rape victims to feel comfortable speaking about their assault stories. Blackman says parent should have "regular discussions together on how to use social media properly and safely." Also maybe even warn their children that predators create "false personae and prey upon the innocent." Though- it could happens to parents as well.
Two years back a single mother was using a dating app when she and a man started speaking. The two shared private information and decided to go out which lead to him sexually insulting her. Charges were pressed but she was scolded about giving her information out on the internet to strangers.
Sometimes you don't have to give out your information to be assaulted, Amanda Todd went viral after her suicide in 2012. The teen took her own life when a man on the internet was stalking her and blacking mailing her with pictures of her breast. The 35 year old man was charged in the Netherlands for the case and it was then closed.
Though some bullying and sexual assault crimes happen for different reasons than changing themselves to appear more attractive, the bullying of homosexuals has been worst than ever in the past two years than ever before.
Though people of the LGBTQ+ community tend to use the internet as a safe place with their movements for equality and to be accepted like everyone else, people's criticism always seems to find them.
Facebook has taken a movment in their Terms and Services to stop the bullying of homosexuals and wish it is reported so the bullies profile can be taking off the social media site for good.
Even with Facebook doing this psychologist say about 75% of the homosexual teens get bullied on other social media like Instagram.  Which is an app based on posting pictures of yourself and other things around you or just pictures you take in general. The site has a comment and like section, as well as a section where you can private message people.
"Most gay teens tend to not tell anyone that they are being bullied because most them are not out yet" says the LGBT foundation. Jim's story was put on nobullying.com which explained how he hid the facts that he was into the same sex by bullying other homosexuals as a form of selfhatred. Statistics are about 25% of the bullying of homosexuals are from people who question their own sexuality.
Also bullying is a rough patch for the LGBT community, so is the subject of sexual harassment, almost 60% of the LGBT teens in high school say that they have reported the most sexual harassment, most the harassment was from people who plays sports in the school. They say sexual things or try to form themselves on the person because they think it is "funny."
These sexual crimes, as well as how the internet in itself can affect the mind of teenagers still leaves questions open to if the internet is really as safe as we think.