Terrorist attack shocks London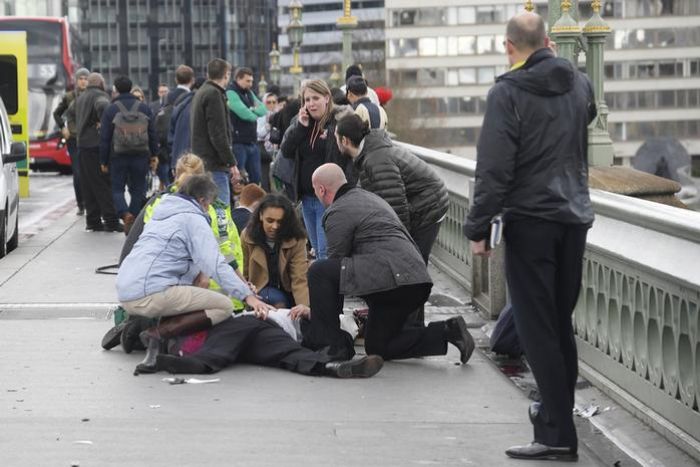 On March 22, 2017, the normalcy of London life was disrupted by a lone wolf terrorist.
A man by the name of Khalid Masood, 52, birth name registered as Adrian Russell Elms, drove the car he had rented from a depot in Birmingham, London over Westminster Bridge, which is near the house of Parliament.
During his drive over Westminster Bridge, Khalid drove onto the sidewalk, hitting  pedestrians in his path, injuring at least fifty people and killing four. Khalid, according to police, was going 76 mph (miles per hour) as he struck the victims.
After running over the pedestrians, Khalid  ran onto Parliament grounds and stabbed and killed a police officer. Khalid was later shot and killed by police officers outside of the Parliament building.
It was confirmed that the attack lasted eighty-two seconds.
Khalid has a criminal record with his most recent conviction of possessing a knife back in 2003 but had never been convicted in a terrorist offence.  
For a number of years, Masood taught English in Saudi Arabia at the General Authority of Civil Aviation in the port city of Jeddah according to BBC news. Yet, the Department of Education did not possess any record of him being a qualified teacher in English state schools.
At least fifty people, from at least twelve different countries, were injured in the attack. Thirty-one of those injured required medical treatment, and only thirteen remain in the hospital.
According to the prime minister Theresa May, the victims included: three French children, twelve Britons, two Romanians, four South Koreans, two Greeks, one from Germany, Poland, the Irish Republic, China, Italy and the United States of America.
Among those in the midst of the attack, four people lost their lives. The victims are:
PC Keith Palmer, 48, was the unarmed police officer that Masood stabbed and killed when he ran into the Parliament building. He had served in the Royal Artillery before joining the police, and was a part of the parliamentary and diplomatic protection command.

Aysha Frade, administrative worker at DLD College London, and was a mother of two young daughters.

Kurt Cochran, 54, was from the United States and was a resident of Utah, and was in London to celebrate his twenty-fifth wedding anniversary with his wife, Melissa who was seriously injured.

Leslie Rhodes, was from south London, and was believed to be visiting a hospital when the attack occurred. Mr. Rhodes was taken to the hospital where he later died from his injuries.
In response to the attack, Mrs.  Michele Dunn, a Naugatuck High School teacher, who traveled to London for a school trip the previous year said, "When I got home and turned on the television I saw it [London attack], for the first time, and my first gut reaction was I wanted to cry and I felt like I was going to vomit. Because all I could think of was the students we had brought last year and emotionally for me, my last memory of London is walking across Westminster Bridge with our students and we walked across the bridge, went on the London Eye, and we were going back to the hotel because the next day we were going to France. So for me my first initial reaction was that image in my mind of us happy, smiling, and laughing and walking across the bridge, and then thinking oh my god if it was a year difference it could have been  us."
Currently eleven people have been arrested within forty-eight hours since the attack. But nine have been released with no further police actions. Several addresses in London have been raided in connection to the attack.
Police have been contacted by approximately 3,500 witnesses, 1,000 of them were on Westminster Bridge and 2,500 who were at the parliamentary estate at the time. Hundreds of videos have been posted online.
Increased security has been placed all over London. The UK's terror threat level has been increased to severe – meaning an attack is highly likely – for some time and this will not change, the prime minister said.
"We always have to go in our mind, that it could always happen [another attack] and I think we have to move forward, knowing that it can and probably and unfortunately will happen again, because that's the reality of the world that we are living in now. That we are going to have to be more vigilant, and aware that these kind of things can always happen." said Dunn.