Brazil begins privatization of some federal agencies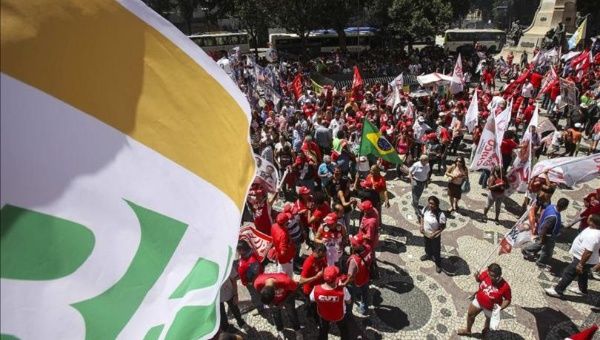 Since the year of 2014, Brazil has been experiencing  a recession. This recession pushed the government to allow a plan for privatization of basic services, as well as a voluntary cut back in the employee base of the agencies providing the services.
A plan called Plano de Demissão Voluntária (PDV), also known as the voluntary resignation plan, which launched at the beginning of 2017, is a plan that could lead to the resignation of employees, in order to restructure federal agencies.
Agencies such as Empresa Brasileira de Correios e Telégrafos (ECT), which is a longstanding mail company in Brazil and is also responsible for millions of Brazilians' bank accounts, accumulated a four billion dollar deficit in the past two years, due to the health care plan of the workers, which according to Rede Brasil Atual, the health plan would cost the workers a total of 2.1 billion reais ($678,919,563.00) in settled damages in 2016, and 1.6 billion reais ($517,272048.00) in regular health plan costs, and would cause the resignation of millions of workers and close more than 250 stations across the country. Currently, ECT, has 117 million workers across the country, and more Jan 6,400 units, and every day thirty million correspondents and orders are given every day in Brazil.
Despite this, PDV would work as such: when someone would ask for a resignation, they would be given a large sum of money, depending on tenure, vacation time, and if the taxes for working there are paid, and the person would have money when they are not employed. For example, if someone worked five years for a federal agency, they would approximately receive fifty-thousand reais ($16,164.75 ) for their resignation.
However, former employees would have to find new work as the severance is not sufficient for the high cost of living in Brazil.
According to an interview conducted by Rede Brasil Atual (RBA), with Jose Rivaldo da Silva, Secretary-General of Federação dos trabalhadores em Empresas de Correios e Telegraphos e Similares (Fentect), "The company [Correios], in three years, changed their account balance sheet to include future debt with the current health plan, with the estimated life expectancy of those retired. Correios doesn't need to disburse this resource now, but they are using this argument to ask for the sacrifice of their workers, impairing public service."
According to Maria do Rosario, federal deputy and former minister of the human rights secretariat of the presidency of the Republic, privatization of the services Correios is not a world trend and not many countries allow it. "Out of the 192 national mailing companies in the world, only eight are 100% privatized and eleven are in the beginning phases of privatizing."
The plan to privatize Correios is one of the many services, agencies and companies planned to privatize.
Currently, as Brazil faces a recession, it also faces a water crisis.
Just like Correios, the Brazilian government also plans to privatize water companies.
State-owned and sanitation company, CEDAE, is also planned to become a private company, and was voted to by the Rio de Janeiro city council to be sold, puts accessibility of water and sanitation to Rio's residents at risk of having their accessibility of water to be disturbed.
For Jose Martins, a resident of Rocinha, Brazil's largest favela, says in an interview with World Politics Review, "The state has a social obligation, so many of us here [in Rocinha] pay a symbolic price. I don't imagine that the business will allow people to pay as little. If this happens, people won't be able to pay. If they can't pay, the company will cut off their water."
CEDAE's sale is part of a deal between the state of Rio de Janeiro and the Brazil's federal government, in return for financial assistance. Rio currently has $2.9 billion deficit to solve by the end of the year, Rio also declared financial emergency last year in 2016, before the Olympics.
Rio de Janeiro is not the only state in financial emergency. States like Minas Gerais and Rio Grande do Sul have also declared financial emergency.
For these three states, privatizing services such as water, sanitation, electricity, banks, mail, and other utilities may also be in the works for the year of 2017. Despite some states not declaring financial emergency, some states have threatened bankruptcy after Rio de Janeiro granted further funding to overcome its deficits.
The privatization of companies in Brazil is the Brazilian government's strategy to overcome state debts.
But for the low income residents of Rocinha, privatizing basic services will become a challenge meaning water prices, electricity prices may rise causing residents a higher cost of living, and possibly even increasing the deficit due to high cost that nobody can pay for.
With low estimated GDP growth for the coming year, plus an increase in public debt-to- GDP, Brazil's government may still have a suffering economy despite the strategy. There may be more sales like CEDAE in Brazil's future, and many more companies may soon be one the road to being privatized, but for the residents of Brazil, only challenge and hardship may be in sight.