Kim Davis is back in the news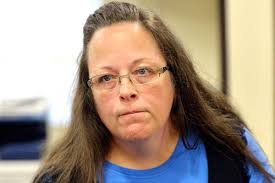 Kimberly Jean Davis was the county clerk for Rowan County, Kentucky. Back in August of 2015 she gained public attention and some hostility. In 2015 she infringed on a U.S. court order to issue marriage licenses to same sex couples.  
Davis reacted to the decision being made by denying marriage licenses and claiming to act on "God's authority." Her resistance led to her jail sentence; she spent five days in jail still refusing to sign marriage licenses.  
Davis is a Christian who has been married four times, twice to the same man. She argued that her beliefs defines marriage as a union of a man and a woman. She said that by signing a marriage licenses for gay couples was violating her religion.
Former Republican presidential hopeful, Mike Huckabee stood alongside Kim Davis after she was released from jail. Huckabee lifted her hands outside the Carter County Detention Center the day she was released and supported her decisions.
Huckabee stated that "If somebody needs to go to jail, I'm willing to go in her place."   
Since her arrest marriage licenses in Rowan County are now being issued to all citizens, despite sexuality,  as required by law.
Today Davis and her lawyer are still facing court challenges and she hopes to see the case come to an end. Davis asked the 6th U.S. Circuit Court to dismiss her appeal because of her state's new law. The new law states that it removes clerks' names from marriage licenses, makes the issue "moot", according to specific court papers.
The ACLU, which was party to the suit against Davis filed by four gay couples, all couple were denied marriage licenses, offered no objections.
James Esseks, the director of ACLU's LGBTQ project, said that "We agree that Kim Davis's appeal should be dismissed. Once the new Kentucky law becomes effective, all loving couples seeking to obtain marriage licenses will be able to do so on an equal basis."