Chester Bennington dies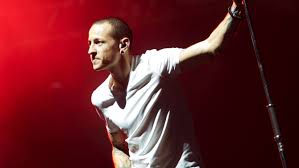 Chester Charles Bennington, born in Phoenix, Arizona then later residing in Palos Verdes Estates, California, died July 20th of 2017 from an apparent suicide in Palos Verdes Estates in California.
Bennington was the frontman of the rock band Linkin Park, which soared in popularity in  2000 after the release of their first album Hybrid Theory. The band gained a devoted following, who stuck with them throughout future albums such as Meteora, The Hunting Party and, just released album, One More Night.
In the singer's earlier years his parents divorced when he was 11, which lead him to move in with his father and start his known addiction to drugs. At the age of 17, he moved back in with his mother and that is around the time that his musical career took off. It was later announced in an interview that when he was seven years old he dealt with sexual abuse from an older male friend.
Before 2011 he had a heavy drinking problem while on tour, but later admitted he was clean and sober because he no longer wanted to be that person.
During this time he got married in 2005 to – the now widowed – Talinda Ann Bentley and had three children, Lily, Lila and Tyler Bennington. He is also father to Isaiah, Draven and Jaime Bennington.
July 24th Bennington's former bandmates spoke up about the sad loss they all are experiencing.
"Dear Chester, Our hearts are broken, the shockwaves of grief and denial are still sweeping through our family as we come to grips with what has happened. You touched so many lives, maybe even more than you realized. In the past few days, we've seen an outpouring of love and support, both public and private, from around the world. [Your wife] Talinda and the family appreciate it, and want the world to know that you were the best husband, son, and father; the family will never be whole without you," said the statement they released.
Some connect the singer's death to his dear friend Chris Cornell former singer of Soundgarden who passed the same way in May 2017. The two were good friends and it was Cornell's birthday the day that Bennington had passed.
Nadage Beausejour, fan of Linkin Park, says "Bennington was a part of my childhood. His legacy will not only go on with his music, but with his strength through mental illness and inspiration to others."