Harvey to be costliest natural disaster in U.S. history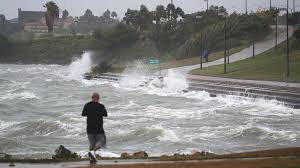 Hang on for a minute...we're trying to find some more stories you might like.
UNITED STATES AND SURROUNDING AREAS– For the first time in twelve years, a major hurricane, Harvey, has made landfall in the Houston, Texas area..
Beginning the week of August 25th and continuing until just this week, the last confirmed fatality count of Harvey is 66, as of September 4th.  
Though it was expected, the severity of the impact of Harvey took most of the country by surprise.
The storm formed in early August, near the African Coast due to a mild tropical wave and slowly made it's way to the Caribbean. Areas specifically hit include Belize, Honduras, Nicaragua, and the Windward Islands.
This path caused a major reroute in all cruise ships and flights heading south and created a stir within those of who had no choice but to stay until the storm passed.
However this was just the start. Hurricane Harvey took by far the largest and most immense toll on Texas, being a category 4 storm.
A drone deployed by USA TODAY reveals footage of what's left of neighborhoods destroyed, chemical plants underwater, extremely high water levels and of course, the devastating suffering of citizens affected.
Due to the damage, there have been donations as large as $36 million to Texas alone, this one in particular from billionaire Michael Dell, a Houston native.
Perhaps this is because the city will be uninhabitable for weeks, possibly months. Being that Houston is the United States's fourth largest city, total damage costs have been estimated to reach $190 billion as of recently, and may still continue to increase.
Prior to Harvey, Hurricane Katrina of 2005 caused $108 billion in damage, and was named one of the five deadliest hurricanes in U.S. history.  
Hurricane Harvey has been worse. Now dubbed possibly the costliest natural disaster in U.S. history, President Donald Trump has responded by donating $1 million to 12 nonprofits assisting recovery and relief.
As if we haven't endured enough, unusually powerful category 5 storm Hurricane Irma is already making an entrance with at least nine dead across the Caribbean and extreme damage in Puerto Rico, Barbuda, and the British Virgin Islands.
As the country fights to recover, citizens in Florida are being advised to evacuate, and we can only attribute the upcoming damage to nature as several more tropical storms are expected to hit during the season.