Harington and Leslie engaged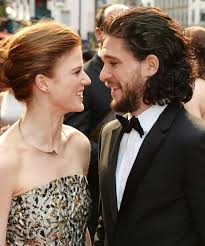 It was announced on September 26th that two actors from the hit series Game of Thrones, Kit Harington and Rose Leslie, are now engaged. The exciting  announcement  was made in the Times of London newspaper.  Fans reacted with joy.
The couple met filming during the Game of Thrones season 2 in Iceland and started dating.
Harington (30) plays Jon Snow and Leslie played Ygritt (30). Their two characters had a relationship on screen, and the two actors have a relationship off screen.
The rumours of the couple becoming an item began in 2012, but Harington put an end to those rumors by denying it.
Speculations of them possibly being in a relationship again began in 2016 and were confirmed when the couple attended the Olivier Awards together in London.
In May on the Late Late Show with James Corden, Harington admitted that he has moved in with his best friend, Rose Leslie. Five months later the two are engaged!  
Weddings on the Game of Thrones never end well hopefully; it's not the same case for the good looking couple.