VIP: Mrs. Brennan, English teacher and fundraiser extraordinaire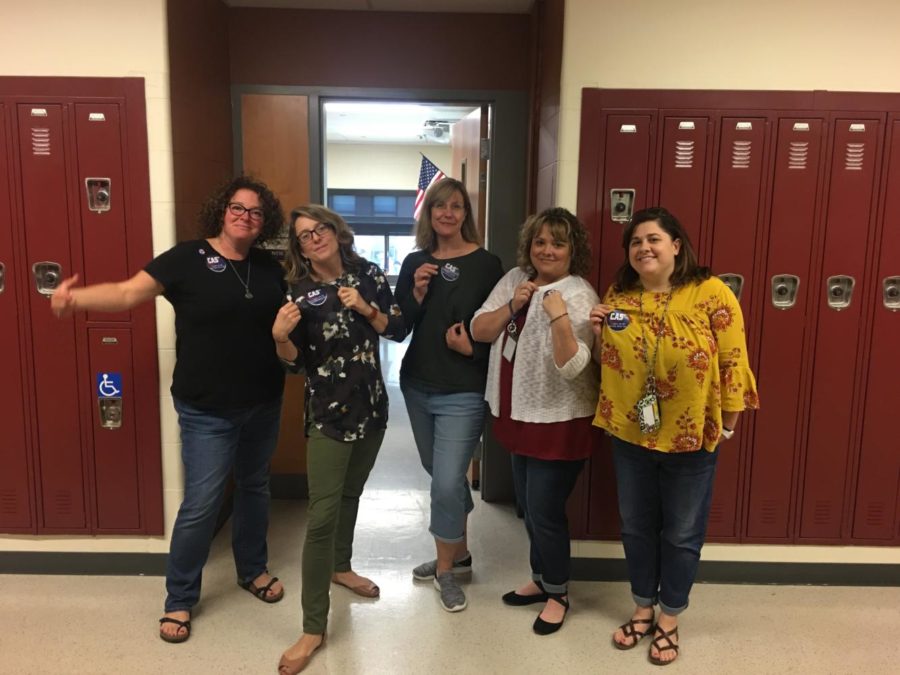 Since September 24, Mrs. Jennifer Brennan, a teacher at Naugatuck High School has been leading a hurricane relief effort for the victims of Hurricane Irma and Maria, in Texas, Florida, and Puerto Rico.
Victor Cardoso: How did you find out about something like this? How did this opportunity arise?
Mrs. Brennan: On September 24, it was on a Sunday, Mrs. Saam sent an email to the staff forwarding the message from the Connecticut Association of Schools, letting the staff know that the CAS was doing a collection for hurricane relief in Florida, Texas, and Puerto Rico. Mrs. Saam's email was letting us know what was being done, and she was looking for volunteers to get involved. That's how I get involved in [the hurricane relief effort at Naugatuck High School]. So Mrs. Saam's invitation made me aware. I was aware of the problem. I had been following the hurricanes in the news, feeling a little helpless, wanting to do something , but this was an opportunity to do something positive once I got that email.
VC: Because of all that is going on, what is your goal to reach with this relief effort?
MB: Yes, the [Connecticut Association of Schools] CAS, is a Connecticut Association, so they have partnering schools throughout Connecticut. I don't know how many schools, but the CAS's goal is 300,000 dollars. They partner with Brother's Brother, another hurricane relief fund, and if the state of Connecticut, CAS can raise 300,000 dollars, Brother's Brother will match those funds. So they have the potential to raise over half a million dollars, [also] having the potential of raising 600,000 dollars for hurricane relief. In Connecticut, they are asking each school to raise 353 dollars, so [the CAS] took their total goal, divided it by however many schools they have participating, or offered to participate, so each school had a goal of 353 dollars. We are going to meet that goal. As of [October 10th], in sales of the stickers, for the staff dressed down alone, we have 250 dollars collected, and there are other efforts as well.
VC: What do you want people to get from this? What do you want people to know about the effort that you've put in, as well as the CAS's?
MB: I think that people need to know that the need is great. That sometimes things are in the news and then they tend to go away if the news is not being covered 27/7; it doesn't mean that everything is back to normal for these people who are affected. There are people in Texas, there are people in Florida, there are people in Puerto Rico who are without the very basics, without running water, without electricity, without their schools being open and running right now. When Mrs. Saam sent out the email, she said that, what are your ideas, so there was the call for fundraising but they didn't tell us how to fundraise. We have complete creative control over how we fundraise, and because I've done some fundraising for American Cancer Society's Relay for Life in the past, each fall we do something called Triple Tuesday Dress Down days. – where staff can pay ten dollars to dress down for three Tuesdays in the springtime, and all of that money collected goes to the Relay for Life efforts, and Mrs. Rojas does a single dress down day for Cystic Fibrosis Awareness, and a collection for Cystic Fibrosis foundation, and because of the success with the dress down days in the past, Mrs. Saam and I decided that we would go forward with a dress down day for teachers, because it's easy, we love to wear jeans, were comfortable with that, and it's something visual to show that support as well. So that's why we went with a dress down day.
MB: After getting back to Mrs. Saam and letting her know that we are going forward with the dress down day, Mr. Ziegler got a hold of me, saying he'd love to help me coordinate these efforts, and we really wanted to get students involved, but we weren't sure how. We reached out to different clubs, new clubs were able to take on the fundraising for students right now, student council, DECA, EXEL, and Interact, [some of the clubs that assisted], so we just decided to do [the fundraising] school wide, with any student volunteering was asked to report to Mr. Ziegler's room, with [him] taking on the coordination of students.
Mrs. Brennan was not the only one who was fundraising for hurricane relief. Alongside the coordination between Mrs. Brennan and other faculty members, students of Naugatuck High School assisted in fundraising by creating products and spreading the word about the hurricane relief fundraiser.
MB: Students are creating bracelets, that have the metal circle, and our school colors, [the students] are selling them for one dollar, and because Mr. Ziegler had the materials donated, the entire dollar goes to hurricane relief. [Specifically] the CAS. So we have the bracelets for sale for one dollar, and then we have the Puerto Rican flag pins on sale for one dollar. Mr. Ziegler also got those donated by a company that he uses to create buttons throughout the year, so 100% of the profits for the sale of these goes to hurricane relief as well, so he has been tremendous [help], [I] was so excited [that] he'd be helping, and he and the students who have been working have been tremendous, their making the bracelets, their selling the bracelets everyday in the cafeteria, they had a dance party the other day. [The students] are walking around to different parts of the school, where students are, letting them know about the sale, letting them know about the ways to support hurricane relief.
VC: What would you want to say to students or other people who know about this opportunity but are still on the fence about supporting the relief?
MB: We were talking about how the news covered things and then not, but the need still being there. If anybody wanted more information they could google the CAS, they could google Brother's Brother, that's where I started because it's important to know where your dollars are going, and where your efforts and time and money are going, so they could google CAS, they could google Brother's Brother. A couple of students asked me if the money was going to the Red Cross, with the Red Cross in the news lately, with the Red Cross being unable to articulate how much of their collection of dollars goes to hurricane relief, and doesn't go to administrative costs, and other things like that. Students were hesitant to give to the Red Cross. I could understand that, students wanted to know where their money was going to, so I would just encourage anybody to find out more. They could come talk to me about it, or they could do their own footwork.
MB: We have a huge  student body here [in Naugatuck High School] and a lot of people with family and friends all over the country, and a lot of students with family and friends in Puerto Rico, even if they are not immediately affected  by it, with family and friends I think are realizing how devastating, and how much of a recovery it is going to be, and how that is going to take money, and that is going to take time and coordination. I know that there are groups like the Teamsters are sending truck drivers down [to Texas and Florida], all of them volunteers, that other humanitarian [groups as well], the Red Cross are sending volunteers, the Red Cross is providing first aid relief, we have hospitals in Puerto Rico that are operating with no electricity, with no running water, and they just got rain over the weekend too, so some areas of Puerto Rico are flooded again. People are still displaced, people are still have a great need , people are going hungry, and hopefully dollars can change that.