Roy "Doc" Halladay dies in plane crash
Hang on for a minute...we're trying to find some more stories you might like.
On Tuesday retired MLB superstar Roy Halladay's plane crashed in the Gulf of Mexico of the coast of Florida. Halladay was 40 years old.
Halladay's small, single aircraft went down around noon on Tuesday afternoon, according to Pasco County Sheriff Chris Nocco at a news conference. Halladay leaves behind his wife Brandy, and his 2 sons, Ryan and Brayden.
Halladay debuted in 1999 and spent 16 years in the big leagues. The first 12 were spent north of the border with the Toronto Blue Jays. He spent his final 4 seasons in the city of brotherly love with the Philadelphia Phillies. An 8 time all-star and 2 time Cy Young winner, Doc was a great talent and an even better man.
2010 was Halladay's best year of his career. A 21-10 record and a 2.44 ERA earned him his 7th all-star appearance and his 2nd Cy Young award.
Perhaps the most memorable moment of his career came on May 29th of 2010. He took the hill in Miami against the Marlins. Doc hurled the 20th perfect game in MLB history. Seven batters worked 3 ball counts against Halladay, but Doc was able to work his way around those deep counts and made history.
Later that year in the NLDS on October 6th Halladay made even more history. He dominated the Cincinnati Reds in game 1 and threw just the 2nd no hitter in postseason history.
"It still counts as a loss, but that was a very dramatic loss," Reds manager Dusty Baker said after Doc's historic night. "That is the best-pitched game I've seen since I've been going to the playoffs and the World Series."
On Tuesday when Halladay passed former players took to social media to reflect on his career and life and send their condolences to Halladay's family.
"Such a sad day. We lost a great ball player but an even better human being. Many prayers to Brandy, Ryan, & Brayden. We will miss you Roy." @ryanhoward_006 on instagram.
"Roy Halladay was IT. He was understated and he was a superstar. Rest Well RIP Doc." @roccobaldelli on twitter.
"My heart hurts writing this. I can still remember the first day we met. It was 5:45am on the first day of spring training when I arrived. He was finishing his breakfast but his clothes were soaking wet. I asked if it was raining when he got in. He laughed and said 'No I just finished my workout' I knew right then- he was the real deal. Thank you Roy for allowing us to witness what it takes to be the best. We will all miss you." @therealchaseutley on instagram.
The baseball world has lost a legend, the world has lost a great human, but heaven has gained an ace. Rest in peace Doc.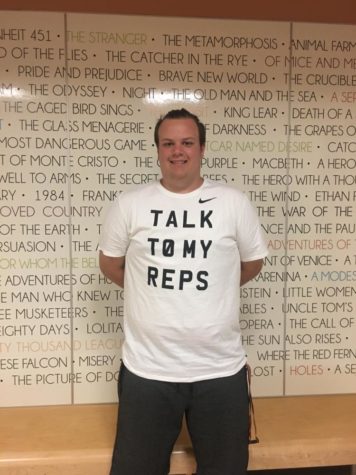 Matthew Polek, Sports Editor
I am a senior. I will be attending the University of Tampa as a journalism major in the fall of 2018.