Puerto Ricans continue to suffer in the aftermath of Maria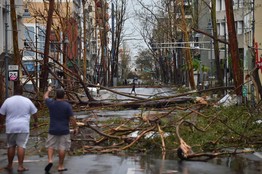 Since Hurricane Maria, a category five hurricane, swept across the Caribbean on September 20, many countries such as Puerto Rico, Dominican Republic, Turks & Caicos, the U.S. Virgin Islands, and Guadeloupe, have suffered infrastructural, economical, and agricultural issues due to the storm.
Puerto Rico, a U.S. territory directly hit by the category five hurricane has suffered logistically in the aftermath of the storm. Due to the storm, damages to the nation's power grid has left the entirety of the nation without power, consequently leaving all forms of communication to outside nations down.
Despite the damages that Puerto Rico sustained to the storm, no one understood the true extent of the damages to the island.
"It depends on the damage to the infrastructure. I'm afraid it's probably going to be severe. If it is… we're looking at months without at months as opposed to weeks or days," said Puerto Rican governor, Ricardo Rossello in an interview with CNN.
Many Puerto Ricans, alongside the many hospitals in Puerto Rico, have been relying on portable generators to supply themselves with power.
With the devastation to the electrical infrastructure, more than ninety-five percent of Puerto Ricans lost cell phone service, cutting off telecoms to the outside world.
Yet, with the devastation of the electrical infrastructure in Puerto Rico, many flaws and issues of the electrical companies before the storm have arisen into public light.
According to The Chicago Tribune, Puerto Rico's electrical company the Puerto Rico Electric Power Authority (PREPA), filed for bankruptcy in July 2017 and was $9 billion in debt, also suffering from high rates and poor service. Even before Puerto Rico was hit by Hurricane Irma, PREPA claimed that $4 billion was required to overhaul outdated power plants and reduce the heavy reliance on imported oil. On top of these economical necessities, with the toppled power lines, PREPA will need hundreds of millions of dollars to repair them.
Currently, according to the Scientific American, even after nearly two months since Hurricane Maria hit, nearly more half of Puerto Rico still does not have power. This also includes refrigeration, air-conditioning and access to computer networks.
Besides Puerto Rico's electrical infrastructure issue, the access to food and water have become a precious commodity for many.
For many Puerto Ricans in the business of agriculture, entire farms and crops have been either wiped out completed or severely damaged by the storm.
For many farmers, the road to recovery will be a long one.
Within only a few hours after Maria hit the island, an estimated eighty percent of Puerto Rico's agricultural value, worth $780 million according Carlos Fores Ortega, secretary of Puerto Rico's Department of Agriculture, was destroyed.
According to The Boston Globe, along with the destruction of crops across Puerto Rico, many farmers experienced the loss of cattle and other farm animals in the storm.
One farmer Jose Antonio Lopez, a dairy farmer in Puerto Rico, lost a large portion of his cattle that died in the storm, and, in the case of Mr. Lopez, about 300 of his cattle died when the river water levels rose and drowned the cattle. Only a few miles down the road, another farmer Ortiz Rodriguez, lost 180 cattle and about 100 calves to the storm.
Due to the loss of agricultural products in Puerto Rico, the lack of economy and access to food will cause relief efforts to delay even further.
"Sometimes when there [is] a shortages, the price of plantain goes up from $1 to $1.25. This time, there won't be a price increase; there won't be any product," said Jose A. Rivera, a farmer on the southeast coast of Puerto Rico in an interview with The New York Times.
Because of the lack of a stable economy to assist in relief efforts, federal aid from the United States has been called upon, but for some areas in Puerto Rico, it will require more than just financial aid to recover.
According to U.S. News & World Report, on Monday, November 13, the governor of Puerto Rico, Ricardo Rossello, requested for an additional financial aid of $94.4 billion to recover from the many damages the island-nation has suffered from.
Mr. Rossello also requested from Congress to create a tax overhaul to address the specific needs to prevent an exodus from Puerto Rican companies that generate forty-two percent of the island's gross domestic product.
The relief effort for Puerto Rico will require more than just fundraising, donations, and volunteering, it will require both those in the U.S. to assist and everyone in Puerto Rico to band together to help recover.
"Hang in there. We did it by ourselves for a long time. We held our own. We always have. We work together as a community. We love our heritage. We love our pride. We love our Puerto Rico. We can do it. We can get it back to where it was. As long as we work together, and no one turn their back on one another," said Glorianese Ortiz, a student at Naugatuck High School, who currently has family in Puerto Rico.
There will be a long road ahead for the many people affected by Hurricane Maria in Puerto Rico, some to repair their farmers, the restore their homes, have electricity, or find a new home, and as time proceeds Puerto Rico will recover.