Brock Turner to appeal his guilty verdict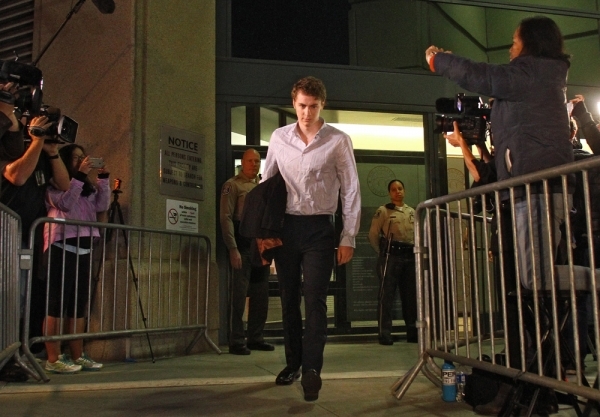 Brock Turner, a former Stanford University swimmer, sexually assaulted a woman behind a dumpster on January 18, 2015. He was given a sentence of 6 months in jail after his conviction, but he served only 3 for good behavior. In an appeal filed by his lawyers Friday, Brock Turner is attempting to appeal his guilty verdict, and he also does not want to register as a sex offender.
January 18, 2015 marked the day that Brock Turner laid his hands on an unconscious woman behind a dumpster on Stanford's campus.  Emily Doe, a visiter to the campus, was attending a party with her sister, she drank too much and she let her guard down. When she finally came to she was in a gurney , bloody and bandaged. She had been violated at the hands of Brock Turner.
Brock Turner was caught in the act by two passersby and put in handcuffs. After being convicted by a jury of his peers,  he stood in front of a judge to hear his sentence. Brock was convicted of 3 counts of felony sexual assault, a crime that would give a person 16 years was lowered to 6 months by Judge Aaron Persky.
"A prison sentence would have a severe impact on him. I think he would not be a danger to others," said judge Persky. He went on to say that not only would the prison time have a severe impact on Turner, it would also have adverse collateral consequences on him too.
Judge Persky also stated that, "I take him at his word that subjectively that's his version of hs events." This is his statement on behalf of Brock Turner's report  saying that the victim consented in the event.
Brock Turner was later let out of jail for good behavior only serving half his sentence.
Brock Turner turned 21 behind bars, and what now awaits him is having his face and name documented in the sex offender registry. His name and picture will be released publicly to all those who live in Ohio, and anyone who lives within 1,200 feet within him will be notified that the area they are living in has a sex offender.
Turner does not agree with this outcome. A 172-page appeal filed on Friday by Turner's lawyers states that Turner did not get a fair trial.  They have hope a new trial will have Turner not have to live with his name being register as a sex offender for life.
Turner's lawyers went on to tell NBC that the trial was a,"lengthy set of lies."
The appeal takes on the issue as to where prosecutor Alaleh Kianerci repeating the term, "Behind the dumpster" used as a reference during the trial. The appeal states that the use of these three words makes it seem as though Turner, "implied an intent on the appellant's part to shield" his activities from others and "implied moral depravity, callousness, and culpability on the appellant's part because of the inherent connotations of filth, garbage, detritus and criminal activity frequently generally associated with Dumpsters," The New York Times wrote.The graduate students approached from the basketball court side, meaning Mr. Turner and the victim were not obscured, the brief said.
Santa Clara County District Attorney Jeff Rosen believes that Turner's new legal effort is already a lost cause, according to a statement given to The Mercury News.

"His conviction will be upheld. Nothing can ever roll back Emily Doe's legacy of raising the world's awareness about sexual assault."
She stated in her letter, "you took away my worth, my privacy, my energy, my time, my intimacy, my confidence, my own voice, until today," she read in court from her victim impact statement.
"The damage is done, no one can undo it. And now we both have a choice. We can let this destroy us, I can remain angry and hurt and you can be in denial, or we can face it head on, I accept the pain, you accept the punishment, and we move on."
According to The New York Times, attempts to reach the original judge, Aaron Persky, have been unsuccessful.