Dolores O'Riordan from The Cranberries passes away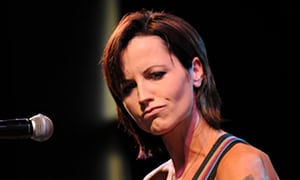 On the 15th of January, Dolores O'Riordan, singer for alternative rock band The Cranberries, was found dead on the bathroom floor of her London hotel room.
On Tuesday, London  police declared the death "not suspicious." However, a London coroner's office announced that a valid cause will not be released until April at the least. It was noted that the singer was there to discuss plans for a new album while on her trip.
Thousands of fans are devastated, but they're not the only ones. Among her family, friends and many fans, Dolores' boyfriend, Olé Koretsky of rock band  D.A.R.K., is absolutely heartbroken. Not only were the two inseparable, but Dolores was working on an upcoming album with the band. Shortly after he discovered the news, Olé made the decision to notify fans by paying respects on the D.A.R.K. website.
"Dolores is beautiful. Her art is beautiful. Her family is beautiful . . . I am lost. I will miss her so much. I will continue to stumble around this planet for some time knowing there's no real place for me here now."
Guitarist Noel Hogan of The Cranberries also spoke to Rolling Stone in remembrance.
"Dolores's legacy will be her music . . . She was so passionate about it. There are songs I hear today that we wrote over 20 years ago, and I see and hear people singing along with them. There are only a few artists who get to have maybe one song they are remembered by. Dolores has so many. It's a great legacy."
A large funeral service, lead by family friend Canon Liam McNamara,was held for the vocalist in her hometown of Ballybricken, Ireland at St. Ailbe's Church. With an emotional speech titled "Gig of Life," he told the legacy of Dolores O'Riordan.
"If tears are shed in heaven – by necessity they are tears of joy. Yes, tears of joy, following an excellent performance by Dolores, in the most important and vital gig of all – the gig of life itself."