Teenager with terminal cancer marries his high school sweetheart
Update:

Dustin Snyder,

the terminally ill teen who fulfilled his dying wish of marrying his high school sweetheart in January

, has died after a battle with a rare form of cancer.

Dustin Snyder, 19, died on Friday in Valrico,

Florida

, just three weeks after marrying his 21-year-old girlfriend Sierra Siverio in a wedding ceremony, which touched the nation.

"It started off with a Facebook post where Dustin's sister asked if anyone had a tux and wedding dress," family friend Nicole Roberts told PEOPLE in an interview.

The story soon became viral. People started offering to donate much more, including the wedding dress, music, food, venue, flower arrangements and the rings themselves.

His sister started a GoFundMe page for their wedding, raising almost $40,000.

Snyder's sister Brittany Hails confirmed his passing, writing on Instagram: 'My baby brother got his wings today. I love you Dustin Wade Snyder. No more suffering god got you now.'

Siverio, his wife told the Tampa Bay Times that she had last been able to have a conversation with Snyder on Wednesday, when she asked him to blink if he understood her.

"I said I love him,"she said, "and if he's ready to let go he needs to go. I'm here and it'd be okay."

He blinked, she said.

At the time of the ceremony Siverio told ABC News, "Appreciate the time you have… you don't know how much time you have."
Nineteen year old Dustin Snyder of Valrico, Florida received dreadful news three weeks ago that he has terminal cancer. Given only weeks to live, Dustin fulfilled his last wish of marrying his high school sweetheart January 27th.
Over the past year and a half, Dustin has been battling a rare form of cancer known as synovial sarcoma,  a slow-growing cancer that typically attacks the soft tissues near large joints but can also develop in the lungs and kidneys, according to the Mayo Clinic.
In June 2018, a day before his eighteenth birthday, doctors discovered cancer in his left lung.
Doctors ultimately removed his lung and continued radiation and chemo.
Snyder was cancer-free in January 2017, his mother said. But by August they found cancer in another three spots and the family was told, "it would keep coming back until they couldn't treat it anymore."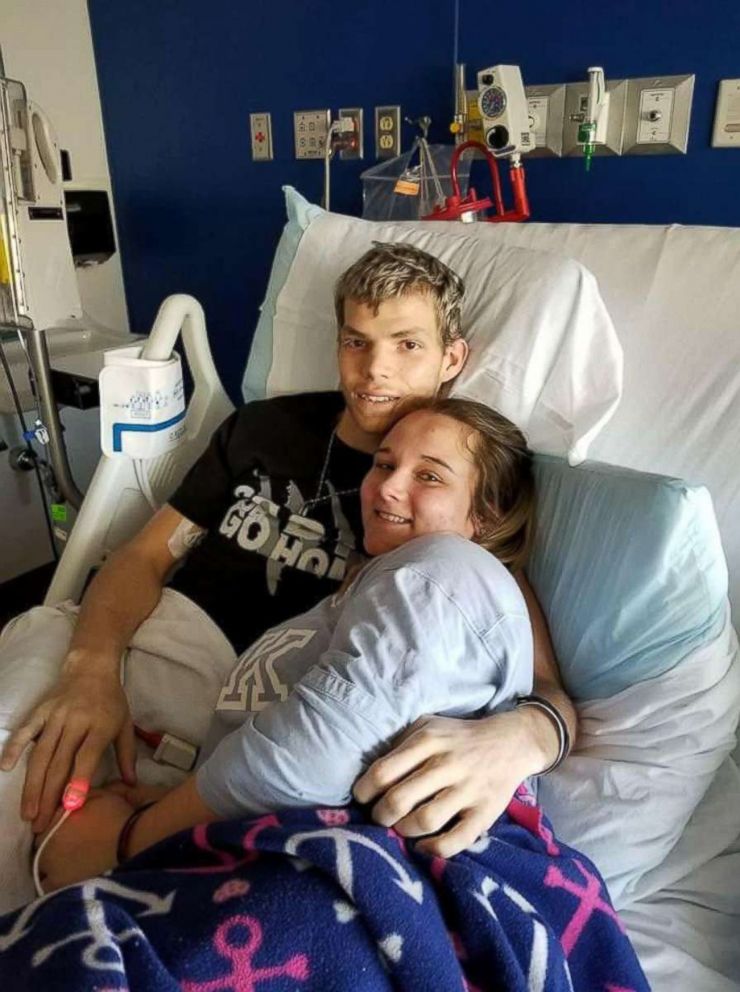 Over the years he has undergone multiple treatments to remove his tumors, only to watch them return and destroy his body. In December news broke that the cancer had become terminal as it overcame his stomach and his pelvis.
Around the week of January 15th Dustin told his mother, Cassandra Fondahn that he wanted to marry his girlfriend, twenty one year old Sierra Siverio.
"I love her. She's been there for me through this whole process"… '[Siverio] means the world to me. I wouldn't be able to get through any of this without her," Snyder said in a phone interview with The Washington Post.
Only five days after expressing his desire to marry his high school sweetheart to his mother, his final wish came true.
According to his mother, Snyder and Siverio have known each other since middle school and even dated for a short time back then. Eventually Snyder had to be moved to a different school district where the two lost touch until two years ago when Siverio ran into him working at a local Steak 'n Shake.
What was originally supposed to be a backyard wedding, where guests were planning on bringing food, turned into so much more.
"It started off with a Facebook post where Dustin's sister asked if anyone had a tux and wedding dress," family friend Nicole Roberts told PEOPLE in an interview.
The story soon became viral. People started offering to donate much more, including the wedding dress, music, food, venue, flower arrangements and the rings themselves.
His sister started a GoFundMe page for their wedding, raising almost $40,000.
"He really wants to marry the woman that has stuck by his side through all the sleepless nights and is now dealing with knowing he will pass any time soon," she wrote on the GoFundMe page.
In Dustin's final days he has been home with regular visits from hospice and a pain-medication pump connected to his heart, but, despite his immense pain, Dustin was able to find the strength to stand at his wedding.