A family dies on vacation in Cancun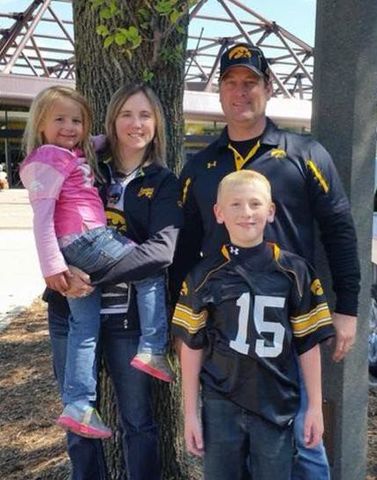 On March 14, the Sharp family took a trip from Creston, Iowa to Tulum, Mexico along with their two kids. The day they were supposed to come back ended up with a no show leading family members to call authorities. The family was found in their rented condo dead from gas Asphyxiation on March, 24.
The last text received by Amy Sharp's sister Hoyt was Amy sending a text to their mother informing them that they have reached the condo.  That was the last form of communication the family shared during their time in Tulum.
Kevin Wayne Sharp, 41, a salesman for a beer distributor, Amy Marie Sharp, 38 who is a dental-claims specialists, and their children, Sterling Wayne Sharp, 12 and Adrianna Marie Sharp, 7, were reported missing by family members when they didn't turn up to a basketball game they were supposed to attend.
This triggered a worried and rushed manhunt to determine where the family was. A facebook post on Thursday March, 22 by Ashli Peterson stated briefly about how the family left the U.S for Tulum and were supposed to arrive back home on Wednesday March 21st. Where they made plans to travel to Danville, Illinois for a basketball game on Thursday, March 22nd.
They have been strongly supporting the Southwestern Community College basketball for years. The coach for the team, Todd Lorensen, was interviewed on the matter. She says that "members of their families have been strong Southwestern supporters for years. I consider them friends. They were to be here watching us play basketball this week."
She describes the situation to be heavy on her heart and mind.
Upon further investigation police discovered that the family didn't even board their flight from Cancun to the U.S.
The Mexican authorities were contacted to investigate the disappearance, and they conducted a welfare check at the condo. Upon entry the bodies were discovered, dead for some time. They were dead about 36 to 48 hours prior to begin found.
In a People's article, a manager of  a different vacation condo in Akumal stated, "That the Sharps had tried to turn on the oven or stove, not realizing that they would need to light the gas with a match, and then left the valve open," according to Mercury News.
A vigil was held for the family on a Saturday night. The attendance was around 300 people where people raised to fingers on each of their candles in a remembrance to the passed family.
The location was where the family would watch Mr. Sharp used to race his stock car at a speedway according to New York times. The ceremony was reported to be beautiful from start to finish with, the music lights and tributes.
"She told it like it was. You knew where you stood with her, she was a good friend," said Kelly Franklin, an English professor who met Amy Sharp when she first moved to Creston.
Adrianna was described by family members as a "Fashion Stylist" who ruled the home in clothes and authority.
Sterling Sharp was said to be a upcoming athlete who did everything from playing basketball to swimming.
And Kevin Sharp known as the "Sharpshooter" got his nickname from the racing events he participated in locally every year.
The family married for 16 years "lived life on the fly," said by Beth Fry Amy's Sharps mother. They all lived in Creston for awhile and were known in this close knit community by many.
A memorial stands outside the Sharp family home in Creston, where people are invited to leave flowers or objects to serve as a remembrance to the Sharp family.