Last male white rhino dies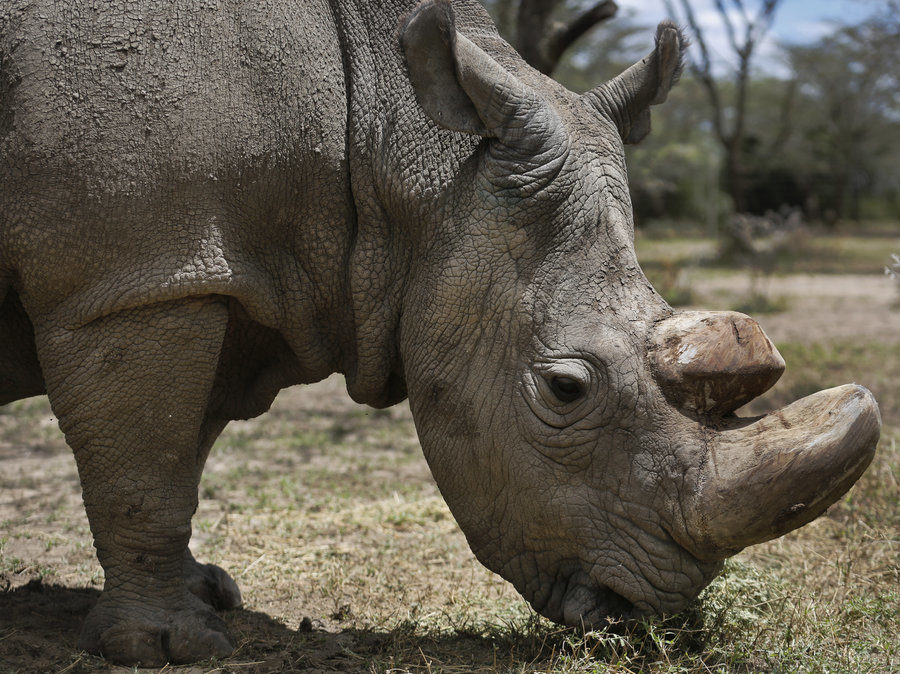 On March 19th, the world now expects the loss of yet another protected species, the northern white rhinoceros.  
At Ol Pejeta Conservancy in Kenya, Sudan, the last male white rhino in existence, was euthanized by veterinary professionals after age related issues were causing him unnecessary pain.
Sudan, age 45, developed a critical infection within the past few months that left him almost unable to stand by the beginning of March. This, along with past and/or recovering injuries had been noted by veterinary officials to be too much for the elderly animal to handle.
Since the northern white rhino are a critically protected species, Sudan had lived his whole life in captivity. From 1975 to 2009 at the Dvur Kralove Zoo in Czechia, then moved to Ol Pejeta until his last days.
Although the last male northern white rhino has passed, his daughter, Najin, and granddaughter, Fatu, remain at the same enclosure. However, neither of them are in good condition to breed.
In the last great effort to conserve the species, veterinarians have saved samples of the animal's DNA, along with female DNA of the same rhino subspecies in hope to one day revive the population of these animals.
Because conservancy staff, animal conservationists and animal lovers alike were upset to hear the news, an emotional funeral service was held for the rhino where his caretakers, animal lovers, and even a Kenyan tourism minister shared their thoughts and feelings toward Sudan and the loss of this rhino species in general.