Woman killed on Southwest flight
Hang on for a minute...we're trying to find some more stories you might like.
One person was killed and seven others sustained minor injuries on a Southwest Airlines flight from New York to Dallas when an engine exploded in midair on Tuesday, April 17th. The explosion shattered a window and sucking a woman out of a window.
The explosion occurred 20 minutes into the flight, prompting a desperate effort among flight attendants and passengers to save the woman, Jennifer Riordan. After the plane landed, Ms. Riordan was taken to a hospital, where she was pronounced dead from blunt impact trauma.
She is a mother to two children and has been married to her husband, Michael, for more than 20 years. Riordan was employed as vice president of community relations at a Wells Fargo in Albuquerque, New Mexico.
"She was a well-known leader who was loved and respected," said Wells Fargo
In a NBC's Nightly News with Lester Holt her husband Michael Riordan revealed how him and his family are coping after the accident.
"I have not been angry yet, I'm sure it's coming. I'm keeping my love for her in my heart and I'm staying strong for my children, and I'm soaking in their looks to me. Their looks to me, their hugs to me are what my rock is," he explained. "And without that, I don't know what I would do."
In response, Southwest Airlines has canceled dozens of flights over jet engine inspections.
A lawsuit has also been filed Thursday, April 26th in the U.S. District Court for the Eastern District of Pennsylvania. Lilia Chavez filed lawsuit in Philadelphia federal court against the Dallas-based carrier, Fox 29 reports.  Chavez claims she was sitting three seats behind the window that shattered after the engine exploded.
Chavez is suing the carrier,  alleging the experience has left her suffering from post-traumatic stress disorder.  "This accident has crippled her will and she is in shock over this horrible, near-death experience," Chavez' attorney Bradley J. Stoll said.
Since the incident, Southwest has issued letters of apology, in addition to $5,000 checks and $1,000 travel vouchers to passengers aboard Flight 1380.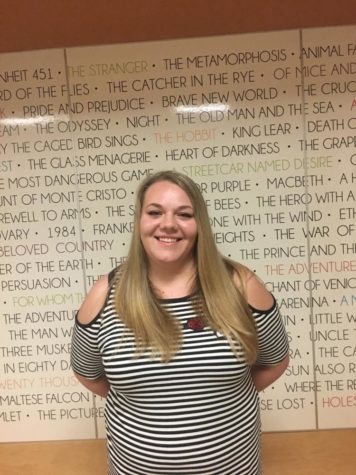 Brenna Yeager, Staff Writer
I am in 12th grade.

I would like to work in Forensic Science. I love watching the news, I watch it everyday. Plus, I love writing.