Student shows dedication when he walks miles to his own graduation
Hang on for a minute...we're trying to find some more stories you might like.
On May 22nd, 2018 Corey Patrick, a senior at Tarrant High School in Tarrant Alabama showed dedication and determination when he was photographed walking miles to his own graduation ceremony.
The photos were taken by  bus driver Dejuanna Beasley, who was in awe of the teen's determination.
Not wanting to miss out on senior year with his friends, Patrick woke up at 4:30 each morning to make it to a 5:41 a.m. bus, as his family had no means of transportation.
The photos went viral after Beasley posted them to her Facebook page.
"I did it to inspire people," she told CBS 42.  "I didn't do it because I knew him. I just did it because he got on my bus and I was inspired that he got on by himself and he was so determined to get it with no one backing him."
But people were inspired.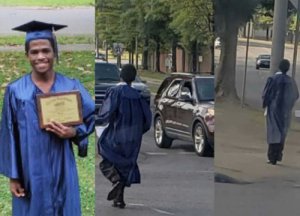 When radio personality Rickey Smiley saw the post, he was just as impressed and decided to give the 19-year-old a brand-new car at Birmingham radio station WBHJ 95.7 Jamz.
Corey had been attending Tarrant schools since elementary school, even though he moved 14 miles away he was determined to finish his schooling where he started.
"Corey was getting up at 4:30 in the morning and had to be at the bus stop at 5:41 in the morning for the last year," White told WBRC-TV.
Graduation day was no different. With no ride Corey took it upon himself to make his way there via bus.
"He's a great young man. He's very quiet, reserved, humble and he gets a little hard headed sometimes, but he's a very obedient child and I'm proud of Corey," his mother added. "I would just like to say thank you to everyone who is supporting Corey and supporting me, and I really appreciate it," Corey's mother stated.