America loses a hero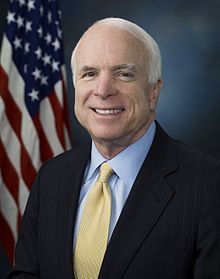 Saturday, August 25, Senator John McCain, the "maverick" Republican senator,  died in Phoenix, Arizona. The iconic senator died of glioblastoma, an aggressive type of cancer that can occur in the brain or spinal cord. He has fought the cancer for the past year.
The day before the sitting senator died, his family released a statement including details regarding his treatment and illness.  
"John has surpassed expectations for his survival. But the progress of disease and the inexorable advance of age render their verdict. With his usual strength of will, he has now chosen to discontinue medical treatment."
According to CBS, Senator John McCain died surrounded by his wife, Cindy McCain, and his five children at 4:28 p.m.
The senator was a naval bomber pilot, prisoner of war, conservative maverick and twice-defeated presidential candidate. McCain spent his last few months out of the public eye reflecting on his life and experiences.
"He was a war hero because he was captured," said the Chicago Tribune.
On October 26, 1976, John McCain's bomber was hit by a surface-to-air missile.  He was then captured by the North Vietnamese in August 1968 and held hostage until October 1969.
In 1982 John McCain won his first campaign in November and was elected to the U.S. House of Representatives. His campaign was called "The Straight Talk Express." Senator McCain won a sequence of primary elections and eventually captured the Republican nomination.
He has served as senator in 1987 and won five times, the final time being in 2016.
According to The New York Times, "In 2008, against the backdrop of a growing financial crisis, Mr. McCain made the most daring move of his political career, seeking the presidency against the first major-party African-American nominee, Barack Obama."
John McCain's wife, children, and his Mother accompanied him as they went into the National Cathedral.
John McCain's mother, Roberta McCain, 106, was his inspiration and the person who motivated him to achieve everything he had achieved. She attended his funeral on Thursday, August 30th.
Barack Obama and John McCain had one of the biggest civil rivalries as well as a close friendship. In fact, President Barack Obama was asked to give the eulogy at John McCain's funeral, which highlighted their mutual devotion.
According to The Washington Post, "He made us better presidents — just as he made the Senate better, Just as he made the country better," Obama read.
President Donald Trump released a statement that said,  "My deepest sympathies and respect go out to the family of Senator John McCain."
President Trump released an additional statement about  McCain two days later that said, "Despite our differences on policy and politics, I respect Senator John McCain's service to our country and, in his honor, have signed a proclamation to fly the flag of the United States at half-staff until the day of his interment"
John McCain was buried on Sunday the 26th on a hill at the U.S. Naval Academy. McCain is buried alongside Chuck Larson, an admiral himself, and a very good friend throughout his life.