West deserves praise for his Ugandan donation
Hang on for a minute...we're trying to find some more stories you might like.
Kanye West, an American rapper who has received 92 awards, 21 Grammy awards and won best male artist back in 2004 went east to Africa, bearing gifts. He and wife, Kim Kardashian, flew toto Uganda to donate hundreds of pairs of Yeezys, his signature shoe to the country's orphans.
Kanye has been in the media for more than 10 years with his popular music,his political ties with President Trump and, recently,  how he's helping out in Chicago.
He flew out to Uganda and met with the Ugandan president Yoweri Museveni and gave him a pair of the Yeezys signed by him and Kim. The president gave them the Ugandan names of Kanysige and Kimigisha as an act to welcome them to the ugandan culture and traditions.
They also donated more than 500 pairs of Yeezy 350 V2´s to ugandan children in the oldest orphanage in Uganda, known as the Masulita Children's Home in Wakiso.
This is the second world leader that Kanye has met including his meeting with President Trump. Kanye's honorable goal is to give other countries a voice through him, allow the media to become more informed about how others live and to try to come together to help them.
Kanye recognizes his own influence in the the media with his music and words alone and with his recent actions he's getting a few more cameras on him and his family, but this act of kindness
Kanye's donation to the Ugandan children received hate due to him giving them white training shoes in a dirty area and also how Oprah made a school for the children there which provides education to them, not just a pair of shoes.
But this donation is about so much more. It's about how he was able to go to Uganda and give these ugandan children a pair a shoes which brought them so much joy that they were jumping up and down. People are always trying to look at the world as a half glass empty instead of full. Kanye had no need to go there and give shoes to the children so they have something to wear many of the children have no shoes or just a pair of sandals. Kanye had no lost´s in this act of kindness.
"We're going to get supplies, resources, architects, doctors, teachers, guides, musicians am gonna go get some resources and come right back." Ye said to in an interview.
West has a large influence within the youth and a lot of people follow him and his family so him going out of his way to help out some ugandan children and giving them shoes can teach the youth how even if its a little thing to someone so rich it's always good to help out in anyway you can and Kanye change help in many ways.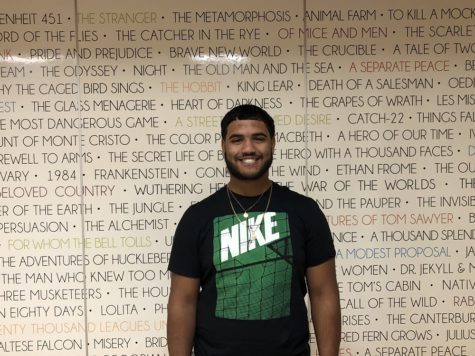 Kevin DeSouza, Staff Reporter
I am in my senior year at NHS, and I would like to attend college to become a nurse. I enrolled in Journalism to have another class with Mrs. Dymond.