Even soccer players suffer the injustice of the gender wage gap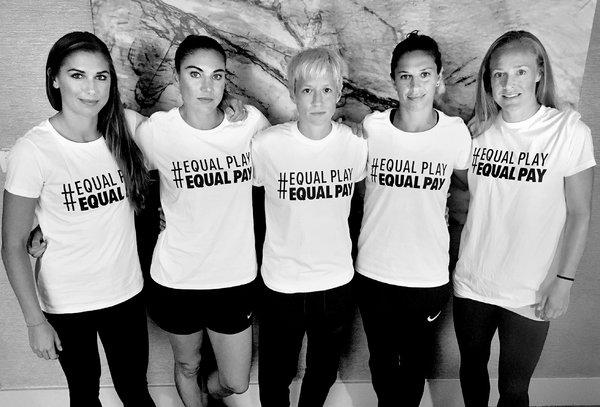 Hang on for a minute...we're trying to find some more stories you might like.
When the US women's soccer team won the World Cup in 2015, they received $2 million. The previous year, the US men's soccer team lost in the round of sixteen and received $9 million.
The Germany men's soccer team won the World Cup that year and received $35 million for winning. This was just a year before the Women's World Cup.
That is a $33 million difference in earnings, and it is a clear reflection of the gender wage gap in sports. It doesn't just occur in soccer, it spans across different sports as well.
In professional basketball, veteran players such as Candace Parker, Sue Bird, and Diana Taurasi could not put their salaries together and equal the salary of an unheard of bench player on an NBA team. In the WNBA the maximum salary is $111,500 and in the NBA the minimum salary is $525,093.
When ranking the top-100 highest paid athletes in 2017, Serena Williams stands alone as the only female to make the list. She is at number 51 and earned $27 million from 2016-2017. The top earning athlete, Cristiano Ronaldo, made $93 million in that same time period. That is a $66 million difference in earnings, yet they both play a professional sport.
"These sports have a lot of work to do. And I really hope that I can be helpful in that journey because I do believe that women deserve the same pay. We work just as hard as men do. I've been working, playing tennis, since I was three years old. And to be paid less just because of my sex–it doesn't seem fair," Serena Williams, who made the cover of Glamour, explained her opinion on the wage gap in sports in an interview with Melissa Harris-Perry.
Even the most successful and skilled female athletes are not compensated as well as their talented male counterparts.
Female athletes tend to rely on advertising for the bulk of their income, and some male athletes do get a large portion of their income from the same revenue. However, the money that females make through endorsements represents the way they can keep up with male salaries when they both play professional sports and train just as intensely.
While it is true that there are male athletes, including LeBron James and Roger Federer, which earn a lot of money for advertising, it is still apparent that they get paid more than female athletes for playing a sport.
"Scoring a goal in a World Cup was my dream as a little girl. I didn't really dream of being in Maxim when I was 5," Alex Morgan, forward on the US Women's Soccer team, replied during an interview.
Morgan does have a higher salary than some of the male professional soccer players, but that comes from endorsements and not for her hard work and training for her career as a professional athlete. She is a talented athlete and is not compensated properly for all the years of practice and work she committed to.
Importantly, the 2015 Women's World Cup Final match had between 20-24 million viewers and became the most watched soccer game in US history. This amount was substantially close to the 28 million who watched the NCAA Men's Basketball Finals.
This reveals that female sporting events are getting as much attention, for whatever reason or multiple reasons, and that needs to carry over to the pay growth for female athletes.
In some sports, like tennis, the pay gap is closing. In 2007 for the first time ever, Wimbledon had equal prizes for all of the male and female players.
Professional sports make more than enough money in revenue in general; there should be a way to be able to invest more money for female athletes so they can be paid equally to the male athletes.
Women work just as hard in sports as men and should be paid for that aspect of their career equally to men.
They shouldn't have to rely on endorsements and advertisements to account for the majority of their money when that isn't the career they worked long and hard for.