Man strangles girlfriend at local nursing home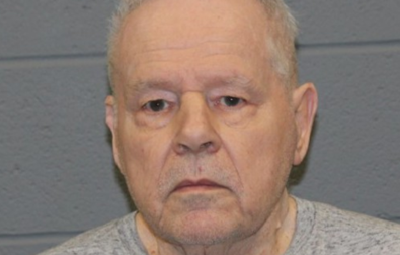 On Saturday November 24, 81 year old John Jensen was charged with murder after strangling 76 year old Patricia Way at a Waterbury nursing home.
Waterbury Police say that they arrived at the scene of the crime at Autumn Lake Healthcare at Bucks Hills in Waterbury at around 6 p.m.
Way had a scarf wrapped around her neck and Jensen pulled it up, yanking her upward out of her wheelchair. Blood was found on the floor and it was evident that her skin had turned purple.
Jensen's 71 year old roommate yelled for help as Jensen carried on with the killing, police said.
"Obviously there were witnesses available on site. Jensen was brought back to police headquarters where an interview was conducted and he made some admissions," said Chief Fernando Spagnolo of the Waterbury Police Department.  
The Waterbury Police later found out that Jensen and Way were a couple and they had gotten into an argument that day and ,according to the arrest report, Jensen was plotting different ways to kill her.
Jensen was asked by an employee at the nursing home and he told them "she had to die, she was evil."
Court documents said, "Asked him what he was doing and he told her not to worry about it. John stated that he wrapped the scarf around (her) neck and held her up with the intent to strangle the life out of her. He continued to strangle (her) until he felt the life leave her body."
Nursing home employees reported that they attempted CPR on Way, but they could not revive her.
Police said Way was sent to St. Mary's Hospital after the incident occured. She regained a pulse, but she was declared brain dead and was taken off life support on Sunday.
The police have arrested John Jensen, who faces multiple charges, including strangulation and criminal attempt at murder. His charges were upgraded to murder during his court appearance on Monday December 3 and is being held on a $1.5 million bond.  
Jensen was called to the Waterbury Superior Court and is being represented by public defender Terry Dalton who told the court that Jensen suffers from dementia and post traumatic stress disorder.
Jensen has a charges filed against him in the past. In 1988, state police in New Hartford had charged him with drunk driving after he failed a sobriety test. He was also charged with driving with a suspended license but it is unclear if he was convicted of those crimes.
"We do not routinely screen someone's criminal background and we've had no previous incidents involving Jensen." Patricia Leone-Tincher, an  Autumn Lake Healthcare administrator told Fox 61.
Jensen is expected to undergo a psychological exam to determine if he is of sound mind, and if he is capable of being able to stand trial for Way's murder.
Jensen is expected to receive mental health treatment while he is imprisoned and will return to court on Wednesday December 5.