A pair of panties forges #ThisIsNotConsent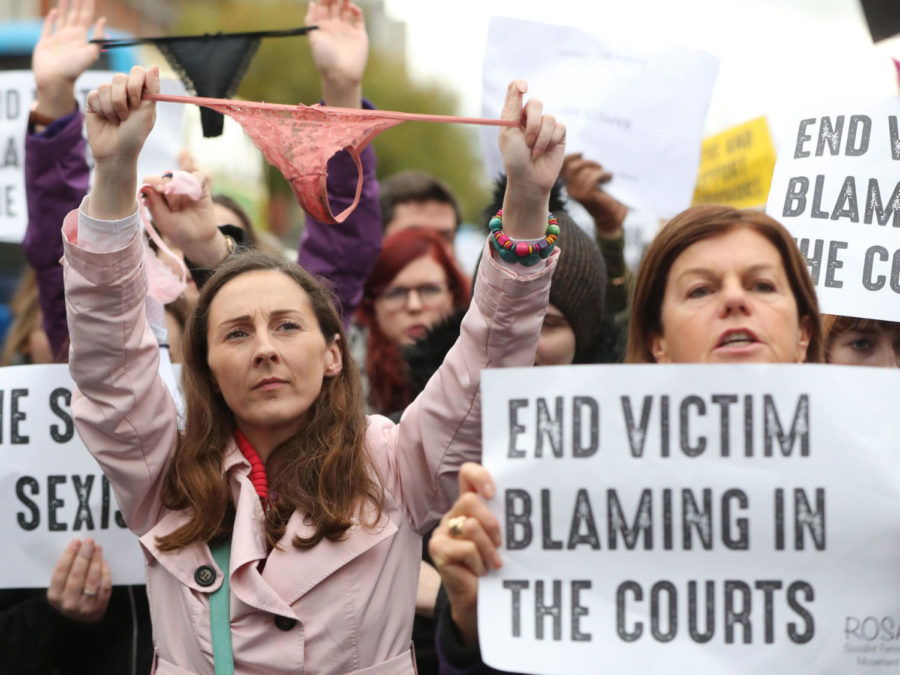 In mid November a case about a 17 year old girl getting raped in Ireland went viral. In the courtroom, the lawyer of the man who was accused of rape held up the young girl's lace thong in front of a jury. The alleged rapist was found not guilty.
He defended his actions by saying, "Does the evidence out-rule the possibility that she was attracted to the defendant and was open to meeting someone and being with someone?" according to the Irish Times.
Just days after the man was found not guilty, the young girl took her own life.
Immediately men and women took to the streets holding up signs with panties, protesting that clothes do not determine any type of consent. Many signs read, "End Victim Blaming In Courts".
The protest was even brought to Twitter where women posted pictures of their underwear along with the caption #ThisIsNotConsent.
SOAS Feminist Society: #ThisIsNotConsent: Victim-blaming and the State of Justice soasspirit.co.uk/societ…#SpiritSocieties
This Friday the 7th of December there will be a rally on the #thisisnotconsent movement held outside the Titanic Quarter Campus at 1 pm, as well as at other further education colleges in Northern Ireland #cNOsent pic.twitter.com/DN1etB3…
Whether or not the accused rapist was decided not guilty because of the underwear held up in court or other evidence is unknown. Nevertheless, this young girl's experience in the courtroom hurt her so much that she ended her life. The lawyer, the alleged rapist and the jury are responsible for that loss.
No woman should have to change how she dresses in order to ensure her safety. A woman does not want to be raped, no matter if she is in sweatpants and a turtle neck or a mini skirt and bralette. Clothes do not give consent, the woman in them does.