A Warren, Michigan boy honors his deceased friend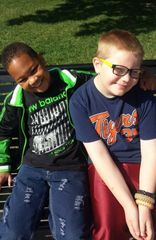 Kaleb Klakulak and Kenneth "K.J." Gross were best friends since the second grade before K.J. died on May 1 from congestive heart failure in Warren, Michigan after battling leukemia for several years.
After his friend has passed, Kaleb, a 12 year old from Detroit Michigan began working odd jobs to raise money to buy a gravestone marker for his best friend.
K.J was diagnosed with leukemia a few months after he was 13 months old.
"We found out at 13 months old that he had leukemia. He had a bone marrow transplant from his sister. Three-and-a-half years later, he relapsed, and had to get another bone marrow transplant from an unknown donor," says LaSondra San Singleton.
K.J. was never a person to complain about his condition.
"He was always smiling. He could tell if you were going through something, and he'd come up to you and say 'it's going to be OK,'" stated his mother.
Years and years of chemotherapy slowly took away the strength of the most important organ in his body. At the age of nine, K.J. developed congestive heart failure and on January 7, a few days after his twelfth birthday, K.J. was admitted to the hospital full time.  
K.J. was buried in a family plot at Detroit Elmwood Cemetery, but K.J.'s mom could not afford a marker for her son, so Kaleb has started to collect bottles, rake leaves, and collect PayPal donations.
Kaleb and his stepfather, Jimmy Hall, surprised San with the full funding for the gravestone, which was $2,500.
"I love Ms. San. I was sad she couldn't afford it. I wanted people to be able to find (K.J.'s grave) when they went to see him."
Singleton says that is one of the most generous things that has ever happened to her.

"My son's not here, but (Kaleb) still loves my son enough to do this. It just speaks volumes to the type of people they are, and it speaks to the type of person that K.J. was- he impacted people to where they want to do this for him."
Singleton quit her job as a school cafeteria worker so she could care for K.J. She returned to work, but, with five children and a mother diagnosed with Alzheimer's, money is tight for the grieving mother.  
Because of this Kaleb stepped up.
When Kaleb and K.J. became friends, they immediately clicked.
"He and K.J. were so much alike. They were kindred spirits; they were like brothers," stated Singleton.
K.J. had two leaky heart valves, so doctors implanted an HVAD pump in his left ventricle. K.J. was depressed, so the doctor bent the rules and allowed to two boys to see each other.
"Kaleb was too young to go into the ICU, but the doctor made an exception … because he thought K.J. needed his best friend. They would paint together, and play video games together. K.J. was intubated, so he wasn't able to speak. But they would communicate. It was pretty amazing to watch," says Kaleb's mother, Kirsty Hall.
Before he died, Singleton only had one question left for her son, did he want to continue to live on life support, or did he want his mom to pull the plug?
"I told him the decision was his- as long as he continued to want to fight for the heart I'd be there for him. I would've loved to keep him here forever, but I told him if at any point he got tired, just to tell me and we stop. Right before he passed, I asked him if he wanted his heart, and he didn't answer. He just looked at me. I knew that he was tired. He mouthed to me that he couldn't breathe. They already had the ventilator at the highest setting. He had to be put back on dialysis, and he was bleeding out, I knew it was time."
On Monday December 10, Kaleb and K.J.'s mom went and picked out a headstone for K.J. Plans have been set to have the headstone installed by Christmas.
Singleton was asked the very next day what she decided to write on the headstone and she said:
K.J. Gross
Cherished brother, son, and friend.