Murray's trophy is overshadowed by past tweets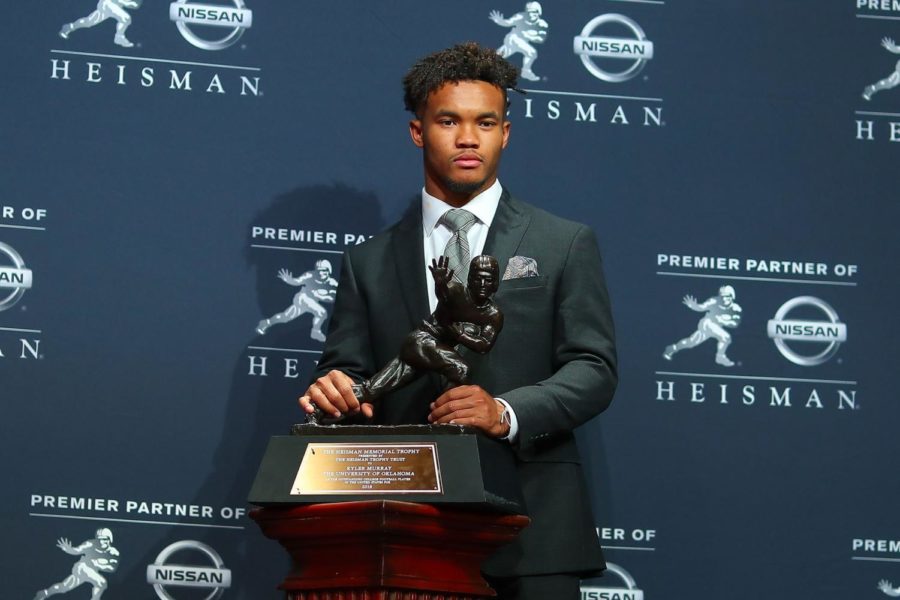 On December 8, Kyler Murray, an American collegiate football/baseball player who plays for the Oklahoma Sooners, was awarded the Heisman trophy for his outstanding accomplishment in this 2018 football season .
At the Heisman ceremony, Murray's speech was angled towards his religious beliefs, his parents, and his teammates who made this award possible for him.
"This is crazy. I've worked my whole life to fulfill my goals, but at the same time, I know there's a higher power looking down on me. He enables me to do all things. For that I am grateful. For the many blessings that God has blessed me with," Murray stated in his speech on Sunday night.
What Murray didn't know was that a reporter, Scott Gleeson, was writing an article about his homophobic tweets from when he was fourteen years old.
When Murray was fourteen years old he used an anti-gay slur by calling his friend a q****on twitter.
A night that was supposed to be memorable and full of accomplishments for Murray was turned into a research paper for a reporter to dig into his life and find tweets from almost six years ago.
Kenneth Warfield, a football analyst, had a few things to say on the side of Kyler Murray.
"Kyler Murray has a few homophobic tweets. He was 14. Big whoop. Who wasn't homophobic when they were 14. Generally 14 year olds are stupid and trying to find themselves."
Many tweets have been tweeted since the article came out about Murray.
One of the friends that Murray was tweeting at said, "In 1997 this world wasn't so soft and uptight as it is now, we were talking like teenagers would and I didn't take offense to the tweet."
For a reporter to go and dig up these old tweets to try and ruin this young man's life is unacceptable. He now belongs to a group of other pro athletes that this has happened to.  Trying to take down someone's life for something they said when they were 14 is disgusting.
Many people have supported Murray after these tweets came out and given him the guidance he needs to move past this.
Kyler Murray later apologized for the tweets and said he didn't realize at the time that this would come back to hurt him.
Murray accepted his trophy and will be continuing his career as an athlete either playing pro baseball or enter his name in the NFL draft.  
While young people can do better in communicating without using offensive terms, this one incident should not disqualify Kyler Murray from his accomplishments.