Amber Guyger found guilty for the death of Botham Jean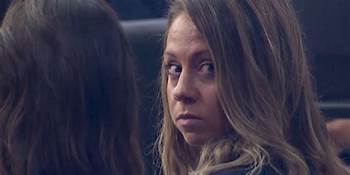 On September 21, 2019, a trial began for Amber Guyger, 31, a former officer who shot an unarmed black man in his own apartment in Dallas, Texas. 
On October 1, 2019, she was found guilty of murder and could face life in prison.
 She is facing 10 years for murder. 
"I'm so sorry," she said as she wept on the stand, her voice trembling. 
"I never wanted to take an innocent person's life. I wish he was the one with the gun that killed me."
On September 6, 2018, Guyger walked into the apartment of Botham Jean, 26, and fired two shots at him while he was watching television on his couch and eating a bowl of ice cream. 
Guyger claimed she thought she was in her own apartment. 
Botham Jean was an accountant for the international auditing firm PricewaterhouseCoopers. 
Amber Guyger claims that she parked on the wrong floor and walked directly into the apartment above her and believed that Botham Jean was a burglar. She claims to have given Jean commands, but he did not comply. The officer then fired two shots, fatally striking him with a bullet to the chest. 
The year 2018-2019 has seen an epidemic of white people assuming black people are breaking the law while they are simply trying to lead their lives. A series of black people had the police called on them for doing normal everyday things: taking a nap, hosting BBQs, and playing golf. 
The hashtag #LivingWhileBlack went viral on social media in the last two years as videos of proliferated incidents around the nation in which white people called the police on black people going about their everyday activities were released.
In Brooklyn, Ohio, a bank apologized for calling the police on a man after racial profiling. Paul McCowns was cashing a check from his employer and on his way out of the bank, he was detained and questioned by police. 
Yale graduate student, Lolade Siyonbola, was questioned by police for napping in a common dorm room. She wasn't doing anything wrong. 
"People seem to believe something is illegal about black people occupying space," Rashad Robinson, president of racial justice organization Color of Change, said. 
While there is no connection between Guyger and these other incidents, the inherent racism is highlighted in both cases.
"If it was a white man would it have been different? Would she have reacted differently?" Allison Jean, Botham Jean's mother said on local news. 
Guyger was fired from the Dallas police weeks after the shooting and was charged with murder. 
At the end of the trial, Amanda Guyger and Jean's brother hugged.