Kaepernick deserves to play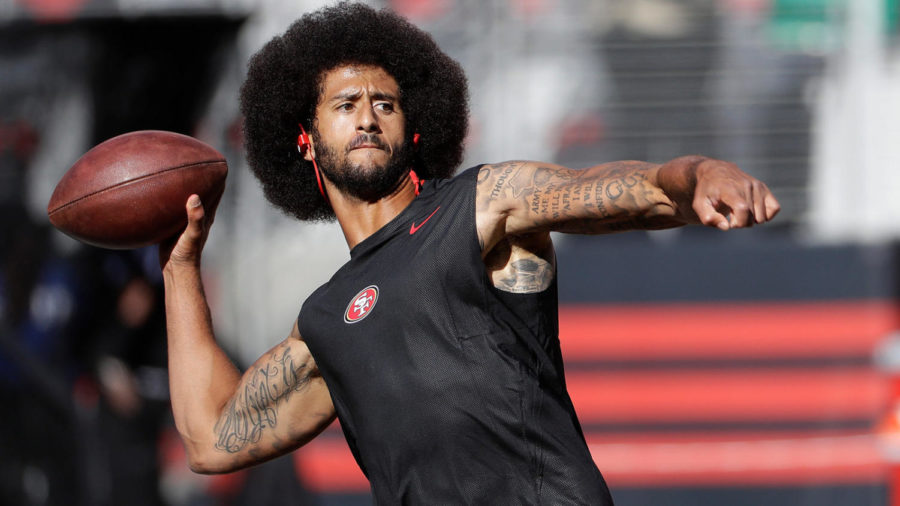 Former quarterback and current Nike spokesperson Colin Kaepernick deserves a chance to play in the National Football League again. In his short career with the San Francisco 49ers, Kaepernick led his team to a Superbowl appearance in 2013 after replacing an injured Alex Smith. In 2014 he helped the 49ers reach the NFC Championship game. 
Colin Kaepernick has not played in an NFL game since January 1, 2017, during a week 17 contest against the Seattle Seahawks. Since his departure from the 49ers, Kaepernick has not been signed to a team at any point.
There has been a lot of controversy surrounding Kaepernick since the 2016 preseason when he began his protest against police brutality by sitting through the national anthem before games. 
On September 1, 2016, Kaepernick started a movement by taking a knee through the national anthem during the team's final preseason game. 
However on Tuesday, November 13th of this year, The National Football League announced that they have set up a private workout for free-agent quarterback Colin Kaepernick. 
The workout did happen, but not the way the NFL thought it would. Kaepernick and his team moved the workout to a high school about 60 miles away from the intended place. Kaepernick wanted his own camera crew to record the workout and for the media to be able to attend. 
According to Kaepernick's agent, approximately 7 NFL scouts went to the workout. Of the seven teams that sent scouts, the only confirmed teams are the Washington Redskins, Tennessee Titans, New York Jets, Kansas City Chiefs, and Philadelphia Eagles.
According to Adam Schefter, an NFL insider, "an NFL executive at Colin Kaepernick's throwing session said his arm talent is "elite" and is the same as when he came out of college."
This was Kaepernick's first and potential last chance to prove to teams that he is capable of playing quarterback for an NFL team. Kaepernick opted out of his contract with the 49ers after the 2016-2017 season. The team stated that they would have released him if he did not leave the team. 
Back in May of 2017, 49ers General Manager John Lynch said that the potential reason for cutting Kaepernick would be because of the size of the contract he was playing under. 
"We gave him the option: 'You can opt out, we can release you, whatever.' And he chose to opt out, but that was just a formality."
"I am not going to stand up to show pride in a flag for a country that oppresses black people and people of color," Kaepernick told NFL Media after a game in August 2016. "To me, this is bigger than football and it would be selfish on my part to look the other way. There are bodies in the street and people getting paid leave and getting away with murder."
The NFL announced a new rule banning players from kneeling in protest during the playing of the national anthem before games. If they choose not to stand, they can stay in the locker room, but if they violate the new rule, their teams will be fined.
Kaepernick is not the only player who has been unfairly treated since protesting. Eric Reid, a former teammate of Kaepernick and NFL safety, was also unfairly treated by NFL teams. Reid's contract with the 49ers expired after the 2017 season, no one signed him until after he filed a grievance against the league because of the unfair treatment.
 Reid was an above-average free-safety when his contract expired after the 2017 season. Free agency in the NFL begins in March, however, Reid was not signed until August later that year. Based on his talent and age, Reid should have been one of the more sought after free agents that year.
The problem is not just with Colin Kaepernick, other players like Reid have also been punished for standing up for what they believe in. The league has made advancements towards resolving this by creating the rule about kneeling. 
Players should not be punished for standing up for causes that they value. Athletes are extremely well known across the country, so their voice can play a big role in change. The NFL needs to give the players different ways to express themselves. 
In 2016, The NFL created "My cleats My Cause". During week 13 of the season, any player can wear customized cleats that support something they believe in during warmups. 
This event should be changed. Players should be allowed to wear these custom cleats during the game, and this event should be held at least twice throughout the season. Players should be given more chances to express themselves and stand up for what they believe in.
Colin Kaepernick has been blackballed by the National Football League for the last three years. He definitely deserves a chance to play again because he is an experienced quarterback in a league where the quarterback position does not have that much depth.