Back to school in Connecticut is tested by global pandemic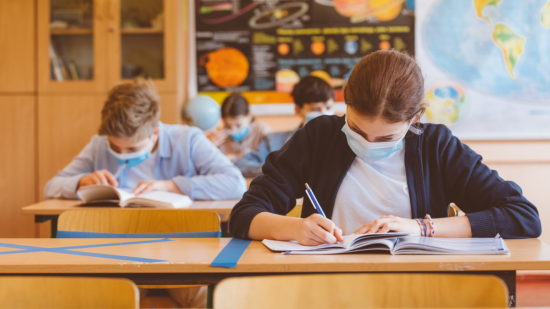 Back to school is normally a period of the fall where students find themselves excited to be back in school, see their friends, and resume their education. But, this past year has been anything but normal. The 2020 back to school season has been like no other with student's mental and physical health being tested. As a result, parents and students in Connecticut have expressed their opinions on being back in school this fall amid the Coronavirus pandemic. 
On October 6 2020, Connecticut currently has 59,120 reported Coronavirus cases. Connecticut's leadership, by governor Ned Lamont, has led CT to have some of the lowest numbers of coronavirus cases within the United States and has allowed schools across Connecticut to send their students to in-person classes. These in-person classes include social distancing, wearing a mask, and cohorts being put in place.
Schools across Connecticut are educating their students through in-person, online, and hybrid classes. Most of the districts within CT have instituted hybrid schedules that allow students to complete their learning at both school and home. The hybrid schedule is a compromise between a normal five days a week, seven hours a day in school learning and fully remote learning. Students attend school two days a week with an assigned cohort. On their off days they attend virtually.
"I like the hybrid learning. As long as the school system is following recommendations from the department of public health and the CDC, I feel comfortable with having my kids attend  school in person," said Michael Chatfield, a parent of a NPS student.
Naugatuck High school has been following a hybrid schedule with the addition of some students completing their learning fully online. 
"I  feel good about being back in the school building. The cohorts are efficient and everyone is following the social distance procedures. I've found learning to be more difficult over online classes, but I'll just have to adjust," said Nadia Cestari, a junior at NHS.
If Covid cases were to rise within school systems, the school districts would have to make the decision on whether or not in-person learning would be put on hold. Governor Ned Lamont stated, "If Connecticut cannot get students into the schools safely, no one can." Lamont and the government of CT believe that schools will remain open, but that is determined by the individual school districts of Connecticut.
No one can tell what the future holds for the 20-21 school year, but the education of Connecticut's students is guaranteed.