Tribute to Ruth Bader Ginsburg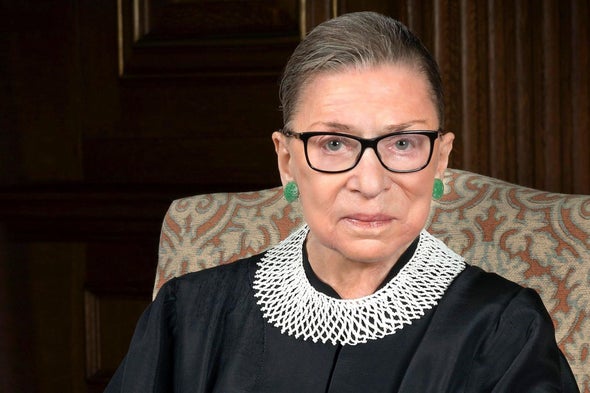 Ruth Bader Ginsburg tragically passed away on September 18 of 2020 at the age of 87 due to complications with pancreatic cancer. She died in her home located in Washington DC. 
This is a tragic loss for all minorities and people who she provided with equal opportunity and a chance at representation throughout her time working on the Supreme Court. Especially for women with the many steps she helped take towards gender equality and empowerment. 
Appointed by President Bill Clinton on April 14th of 1980, Ginsburg had already made clear her dedication to gender equality through some of her work prior to her official appointment. 
One of her biggest accomplishments includes co-founding the woman Rhodes project at the American Civil Liberties Union in 1972. she made an impact in over 300 different gender discrimination cases and this was only by the year 1974.
One of her biggest accomplishments while on the court however would be in 1966 when she worked on the case of United States vs Virginia. This was a case in which the Virginia Military Institute could not refuse to admit women. Even when supported by the state of Virginia. Ruth Bader Ginsburg was one of the people on this case who fought for women to be able  to be admitted into this program equally and fairly just as men would.
Another case she made a big impact with was Ledbetter vs. Goodyear Tire & Rubber Co. It was a case in which she was fighting for the equal pay of women. She continued to fight even though her colleagues pushed to rule against her on the case. She ultimately won in the ruling in fighting for Lilly Ledbetter to receive justice. Ledbetter won 3.3 million dollars, marking a precedent in the Supreme Court for equal pay and sexual inequalities she faced in the workplace. 
These efforts did not go unnoticed and in 1999 she won an award for her efforts in aiding gender equality called American Bar Association's Thurgood Marshall Award.
She was an icon for many feminists and fought tirelessly for gender equality all throughout the duration of her career. She served 27 total years on the Supreme Court and during that time played a key factor in achieving many human rights for the American people. 
She was one of the powerful women in this country who helped to make everyone feel as though they are welcome and represented by the government  and that all voices hold weight when being considered by court for different issues. Her empathy for others and clear show of care was a gem needed especially in today's society and was a voice of reason against more traditional rulings. 
She was very pro-women and pro-equality throughout her career and hoped for that to carry on even after her passing with her dying wish being to wait until the new president would come into office and select the Supreme Court Justice who would take her place.
 Unfortunately, this was not obliged by the president and a conservative woman named Amy Coney Barrett was put into the Supreme Court in her place. This was very against what RBG stood for with Barrett proving to show anti women activism with her actions despite her gender. As well as other injustices such as homophobia and a disregardful pattern for marginalized groups. 
However, Ruth Bader Ginsburg's impact does not go down unnoticed and will never be forgotten. The impact she has made both socially and on the court will go down in history and will affect many generations to come.
The impact Ruth Bade Ginsburg has had on human rights  and maintaining equality throughout her career is unimaginable. She has been honored in many ways throughout the following days of her passing. It is important as young people and as women if you are reading this to take a moment to remember everything that she has done for this country, and the steps that she has taken in order for us to have better opportunities. 
Many women felt fear during this time that still unfortunately prevails. When asking young women how they first felt about the news this is what Pey had to say, "When I first found out I was honestly scared for my rights. She was the only person fighting for everyone's rights and now she's gone. I'm so scared of what the future holds. 
This impact RBG held was echoed by Grace who said, "In my opinion it greatly affects many people but mainly women. Ruth had such an impact on women by bargaining for women's rights and equalizing the differences between genders. Women have had some disadvantages in many issues, even though there have been so many laws passed that she has influenced. And has been a part of that and has pulled through to help equalize rights more. Ruth played a huge part for women, and it means a lot for us." 
With such an exponential impact in mind. Some of the things that have been done to honor her including, fellow politicians paying tribute and many women and young people who she has inspired to desire change and work towards it. She is also the first woman to lie in state at the Capitol. This is considered to be a very important and high show of respect and honor. She may be gone but she is never forgotten and can now rest easily. Knowing how much change she has sparked and how much more change will come from the  example that she has set for the entire country. Rest in Peace to the beautiful soul that was Ruth Bader Ginsburg.