Biden nominates Ketanji Brown Jackson to SCOTUS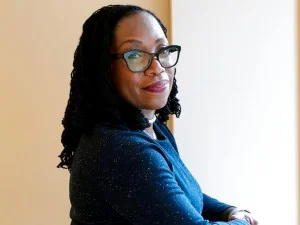 Amid Black History Month and shortly before Women's History Month, on February 25, 2022, President Joe Biden nominated Ketanji Brown Jackson to the Supreme Court. Ketanji Brown Jackson has made history by becoming the first Black woman to be nominated to the Supreme Court. If confirmed, Ketanji Brown Jackson will become the first Black woman to sit on the nation's highest court. 
"If I'm fortunate enough to be confirmed as the next Associate Justice of the Supreme Court of the United States, I could only hope that my life and career, my love of this country and the Constitution and my commitment to upholding the rule of law and the sacred principles upon which this great nation was founded, will inspire future generations of Americans, " said Jackson at a White house event. 
In her remarks at the White House, Jackson said that she shares a birthday with Constance Baker Motley, the first Black woman to serve as a federal judge. The two historic women were born exactly 49 years apart. 
"Today I proudly stand on Judge Motley's shoulders, sharing not only her birthday, but also her steadfast and courageous commitment to equal justice under law," said Jackson. 
Ketanji Brown Jackson has two daughters Talia, 21 and Leila, 17 with her husband Dr. Patrick Graves Jackson. In 2016, Justice Antonin Scalia died leaving a vacancy on the Supreme Court, and Leila wrote a letter to President Barack Obama asking him to consider her mother for the position. 
"I, her daughter Leila Jackson of 11 years old, strongly believe that she would be an excellent fit for the position. She is determined, honest and never breaks a promise to anyone, even if there are other things she'd rather do… She can demonstrate commitment, and is loyal and never brags. I think she would make a great Supreme Court justice… Please consider her aspects for the job. Thank you for listening, " said Leila Jackson in her letter. 
Leila Jackson must be filled with pride now that her mother has been nominated. 
Ketanji Brown Jackson worked as an assistant federal public defender in Washington, D.C., from 2005 to 2007 before becoming a judge on the United States Court of Appeals for the District of Columbia circuit. In June 2021, Jackson was confirmed by the United State Senate to the Court of Appeals. 
Less than a year later, she is awaiting a hearing from the Senate Judiciary Committee. 
Jackson was born in Washington, D.C and raised in Miami, Florida. After graduating Miami Palmetto High School in 1988, she attended Harvard University in 1992 and graduated magna cum laude. She also attended Harvard Law, where she earned her J.D. 
If confirmed, Jackson will be the first Supreme Court nominee since Thurgood Marshall that will have served as public defender. 
Although Jackson is qualified to be a Supreme Court justice, many Republican critics argue that her background as a public defender makes her unfit for the Supreme Court. However, it is important for the court to have someone who is knowledgeable of what the law looks like when the government uses its resources against you. Her background as a criminal defense attorney brings a different perspective to the Supreme Court that others don't have. 
"Judge Jackson has already inspired young Black women like my daughters to set their sights higher, and her confirmation will help them believe they can be anything they want to be, " said Former President Barack Obama in a statement on Twitter. 
Former President Obama speaks for many Black women. 
"As a Black woman, her nomination makes me feel extremely empowered. It reminds me that we can do anything we set our minds to," said Genaya Cupidon, a senior at Naugatuck High School. 
Ketanji Brown's nomination is a reminder to all Black women, especially young girls like myself, that we do deserve to be in positions of power. With hard work and dedication, there will be more Ketanji Brown Jacksons for generations to come.