Celebrating Stevie Nicks, a songwriting miracle
Stevie Nicks, an American singer, songwriter, and producer inspires many through her songwriting and performing. And so she deserves to be celebrated during Women's History Month. 
Inducted into the Rock & Roll Hall of Fame twice, once with her band, Fleetwood Mac, and once without, Nicks has made history. The Rock Hall was first formed to be only men, solo and with their bands who would be inducted multiple times. Until Nicks —  the first woman to ever be a part of the double induction in 1998 and again in 2019. 
Mr. Edward Decosta, a huge fan and an English teacher at NHS, finds Nicks extremely inspirational. In an interview with The Greyhound News, he said "people have offered her songs and she has done that, but most of it she does herself, she wrote the melody, the lyrics, and so forth."
Nicks does it all even guest-starring on American Horror Story. She appeared as the leading witch, The White Witch, and her songs were used throughout the whole season. 
Currently 73, Nicks's career started just at the age of 4, singing at a tavern that was owned by her parents. Her first ever song was written at the young age of 15. During her high school years, she was involved with a group called the Changing Times. Near the end of her senior year, she met Lindsey Buckingham, another performer, at a party. They soon became a duo with popularity written all over them.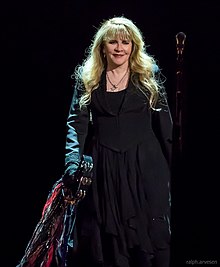 Although their first couple of songs weren't hits, the band Fleetwood Mac thought otherwise. They immediately saw the potential and quickly invited them to join the group. 
After only a year, fans were obsessed over the music that soon put Fleetwood Mac on the top of the charts. In 1977, the band came out with their hit album, Rumours, selling over 17 million copies and being the best-selling album for multiple years. 
While Nicks did take a break from the band, she returned, but then later stopped working with the band almost completely. The band still continues to tour as Nicks tours on her own at smaller venues. 
People are not only drawn to Nicks because of how her voice sounds, but also the meaning of her lyrics. 
Her songs are an "escape," Decosta explained. Just listening takes your mind to another place, a place you want to be, one that you enjoy. 
Vastly known now, Nicks continued to create and perform music by herself. Hits like "Edge of seventeen," "Leather and Lace," and  "Stand Back," were from her second album, "Wild at Heart." 
The Dymonds, married teachers at NHS, have a special love for the song "Leather and Lace."  Used as their wedding song, "it describes the union between two very different people, just like me and my husband," said Mrs. Carolyne Dymond.
Mr. Dymond added, "There are a few verses where Don Henley says 'And you were right; When I walked into your house I knew; I'd never want to leave. Those words have a very special meaning to us, because, after splitting up in 1999, we got back together in 2012 and will never leave."
In the band or not, Stevie Nicks will continue to be loved by all.