JonBenet still remains unsolved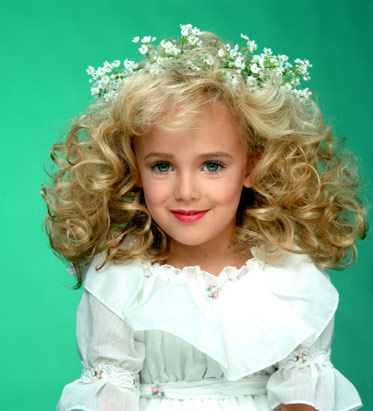 Twenty years later and Americans are still channeling their inner investigators. 6-year-old beauty queen JonBenet's brutal homicide in 1996 still haunts many to this day.
To start off,  the family was well known around town for their wealth and reputation to be great hosts. They were classified as "pageant parents", which also boosted their popularity around their town of Boulder, Colorado.
Many believe before and during the case becoming public, both her mother and news corporations sexualized JonBenet and still continue to do so at the age of six years old. Mrs Ramsey evidently bleached JonBenet's hair periodically for pageants, then later on denied it. As someone who partook in pageants herself, she enrolled her daughter in the world of gradual fame at a young age, which boosted her reputation around the Boulder region.
Channels such as CBS and CNN have failed to show the six year old in her actual form, rather pictures and videos of her pageant days done up and in costume. Her outfit designer allegedly claims the mother always wanted the outfits to be a bit racy for her age.
But this is just the start.
Perhaps the case manipulation was accidental. A significant amount of evidence was tampered with by father John Ramsey, allowing a break in an accurate investigation. Whether this was purposeful or not remains unknown.  
Mrs. Michele Dunn, an English teacher at NHS and an avid JonBenet follower, it most likely was. "I think the father planned to carry her body there on purpose because he put her on the floor and not the couch. The area where he put her was such a weird choice, where everyone had been going up and down the stairs," she said
Not to mention, cooperation on part of the family was at a minimal. Many believe Boulder's investigative team is at fault for the complete disregard for suspicion of the family, and their lenient examination of the house and those in it.
Taking advantage of this freedom and alleviated pressure, the Ramsey's reciprocation was not golden. They had agreed to appear on CNN before allowing one on one investigative interviews with police. Friends of the Ramseys were informed not to talk to reporters, and during the 2016 JonBenet Ramsey CBS Special, involved citizens of the time (i.e. acquaintances, the family church) withheld their comments.
Furthermore, the ransom note found by Mrs. Ramsey asked of the specific amount of $118,000 for JonBenet's kidnapping. In fact, the amount of money that was on the ransom note was suspiciously the exact bonus that Mr. Ramsey had acquired that year.
Luckily, over the last 20 years, there continues to be constant discovery of new conventions regarding the analysis of the case evidence. A study done by a forensic psychologist involved in the case proves a nine-year-old boy was in fact capable of fracturing the skull of and killing a six-year-old girl with such tender development of JonBenet. Along with this, advanced voicing technology was able to distinguish the voices of the 6 second delay in Patsy Ramsey's 9-1-1 call.
"I just remember having that sunken feeling, like something wasn't right. The problem was, if you hear the frantic in her voice when she's speaking to me, where she couldn't even answer my questions, it immediately stopped." She continues. "I had a bad feeling about this. To me, it seemed rehearsed… that's never changed." says the Ramsey's 9-1-1 dispatcher.
In addition to this, all interviews conducted of the family have been professionally analyzed with murderer hunting motives, such as the initial CNN interview done with Patsy and John, and Burke's psychoanalytic interview done two weeks after the incident. Professionals are still taking account of what has been said and how it has been said, as well as how it impacts the case as a whole.
As for the the house's involvement and the questions behind that, there has been a life-size model of the Ramsey home built to further investigate any possibilities.
Until these doors are closed, Americans will continue to discuss this mystery in history.