Five Students Inducted into Quill and Scroll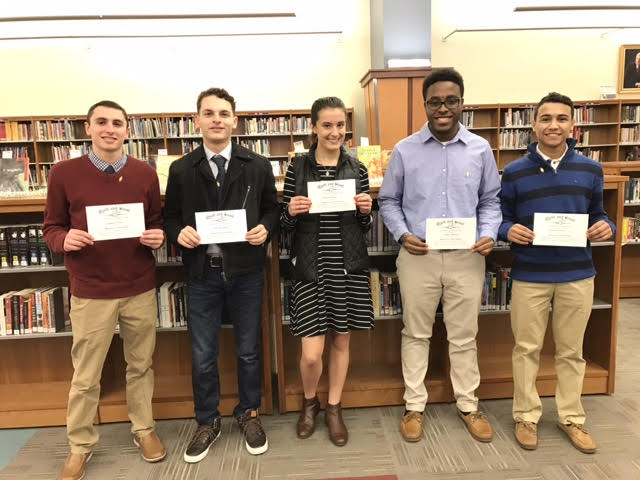 On Thursday, February 2, 2017, five seniors were inducted into the Quill and Scroll Society, an International Honorary Society for Journalism, at Naugatuck High School for their accomplishments in the field of journalism.
The Quill and Scroll Society was established in 1926 by a group of high school journalism advisers.Now, there are 14,200 chapters of the Society in every state and in 44 foreign nations.
The Naugatuck chapter of the Society was re-established to recognize the journalistic, literary, artistic, and managerial talents and achievements of the five inductees and Journalism II students, Pedro DeSouza, Corey Plasky, Jared Rhodes, Samantha Sbat, and Steven Torres.
These students have served as mentors to Journalism I students and as managers of the student-based publication, "The Greyhound News". They have carried out supplementary tasks and assignments upon their own free will and upon the request of journalism teacher, Mrs. Carolyne Dymond, in addition to the workload mandated by the course's curriculum.
In the class, each journalism II student has their own accommodations and deadlines.These students have earned the ability to choose their own type of stories and topics.
In addition, these students have met the Society's five qualifications:
The student must be at least a sophomore in classification.

The students must perform well in their other academic courses.

The students must have superior ability in the subject of journalism.

The student must be recommended by the journalism advisor and approved by the Quill and Scroll executive director.  
Journalism II student and senior investigative reporter, Stephen Torres, said when approached about his induction into the Society said that he was most excited for the "recognition".
"I feel like put a lot of personal work into what I want", says Torres. "I want to go into journalism as a real career and having this is like a note, like a reminder that I am doing something good–something right."
On the night of the induction ceremony, the program's host, Mr. Thomas Pompei, provided a detailed explanation of the history and aims of the Society and that of journalism as a practice. Each student was accompanied by a chosen mentor who had prepared a brief speech that spoke to their experiences with the student and student's attributes and achievements.
Senior writer, Pedro DeSouza, was accompanied by mentor, Mrs. Jennifer Brennan.
Co-Editor and Senior writer, Corey Plasky was accompanied by mentor, journalism teacher, and chapter advisor, Mrs. Carolyne Dymond.
Co-Editor and Senior writer, Jared Rhodes was accompanied by mentor and school principal, Mrs. Janice Saam.
Senior writer, Samantha Sbat, was accompanied by mentor, Mrs. Caroline Messenger.
Senior Reporter, Steven Torres, was accompanied by mentor, journalism teacher, and chapter advisor, Mrs. Carolyne Dymond.
Each student consented to the official Journalism National Honors Society pledge, read by Mr. Pompei. Afterwards, each student was presented with an official pin, placed on them by their mentor, and awarded a certificate that validates their membership.
The ceremony was followed by a quiet, small reception with the inductees, mentors, advisor, family, and friends.