Naugy boys complete 5peat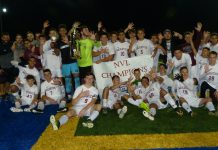 Hang on for a minute...we're trying to find some more stories you might like.
Man oh man, what a night for the Naugatuck boys soccer team. They knocked off Watertown in OT for 5th straight NVL championship, the first time a 5peat has ever been done in NVL history.
After a scoreless first half, Watertown struck first in the 69th minute to take a 1-0 lead. With not much time left the "Hound Pound" didn't give up on their team. They got loud and it helped keep the players in the game even down a goal with 10 minutes to go.
"The support was impossible to ignore," said senior Jared McNeil. "It pushed us forward when we thought we had nothing left to give."
In the 76th minute senior Vinny Knupp delivered a ball that got through the Watertown keeper, and  junior Tommy Martins was on the back post to put it in the back of the net to tie the game.
That goal sent the game to overtime. The first ten minute half of OT was scoreless, which meant there was 10 minutes left to decide a winner, or it was going to come down to PKs.
In just the first minute of the second OT a foul was called on Watertown at about midfield. This gave Naugy a free kick opportunity. The Greyhound keeper, Aren Seeger stepped up to deliver the biggest kick of the year.
"Honestly I was just thinking hit this ball as hard, high, and as far as I could and get it on target."
And he did just that. Seeger booted the ball 65 yards and sent it over the keeper's head and into the back of the net. This sent Naugatuck fans into a frenzy and started the "I believe" chant. The boys were 9 minutes away from a 5th straight NVL title.
The Hounds added another goal in the 93rd minute when Knupp converted a watertown turnover and scored easily on a clean break.
The clocked ticked down and when it finally read 00:00 the Greyhounds were champs. Again. For the 5th straight time.
Senior captain Aren Seeger was named the MVP.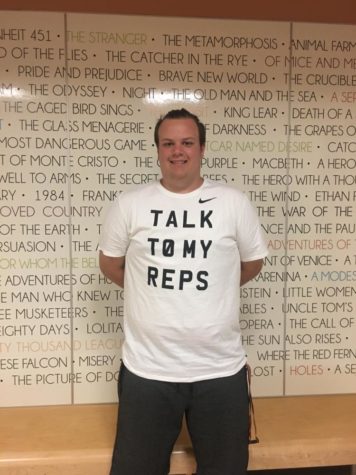 Matthew Polek, Sports Editor
I am a senior. I will be attending the University of Tampa as a journalism major in the fall of 2018.