NHS holds their annual pep rally
Hang on for a minute...we're trying to find some more stories you might like.
On Wednesday, November 21st, Naugatuck High School hosted a pep rally for this year's 2017 Thanksgiving football game against long-term rival, Ansonia.
When Naugatuck and Ansonia met on Thanksgiving Thursday, it was their 118th time facing off, making it the third longest rivalry in the state.
This is the first time since 1994 that both Naugatuck and Ansonia have been undefeated coming into the Thanksgiving game.
"I heard about it since the day I was hired," head coach Dave Sollazzo said. "It didn't matter what game we were preparing for or who we beat, the word 'Ansonia' always came up, and rightfully so."
At the pep rally, our school spirit was one for the books. Class of 2018, with the help of the senior advisors, Mrs. Kelly Leary and Mrs. Jennifer Teixeira, held one of the most spirited pep rallies, gathering more than 1,200 students in the main gym.
To start off the pep rally, the football team entered into the gym to get the crowd fired up, following a skit mimicking Mr. Nick Varanelli, history teacher, and Mr. Dave Ciskowski, math teacher.
Traditionally, we had the mock football game, where senior girls play on the Naugatuck football team and other senior girls play of the Ansonia football team. Ansonia "scored" first, then Naugy made a comeback with two more touchdowns, and won the game.
"The pretend football game was so funny to watch, I loved it!" says senior Samantha Royka.
After the mock football game, senior fall sport athletes were recognized, greeted with roses and cards. Each senior came up to the front of the gym and posed for a photo with their team.
Everyone's favorite part came, the roast. Each senior football player walked out to the front of the gym, next to their "roaster".  The crowd fell silent, ready to hear the hilarious statements made by the senior girl "roasters."
Before the pep rally ended, there was a Miracle Minute. The Miracle Minute was dedicated to 16 Year old Justin DaSilva, who recently lost his battle to cancer on October 4th. Justin was a junior at Woodland Regional High School. He loved basketball, soccer, and spending time with his family and friends.
At Naugatuck High school, the pep rally held each year gives everyone a chance to come together and celebrate the Thanksgiving game, and most of all, show our school spirit.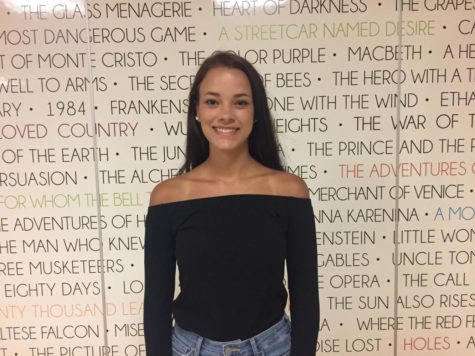 Hailey Carroll, Staff Writer
I am in 12th grade. I would like to become a Transplant Coordinator. I love writing and learning new things.