NHS holds its first spring pep rally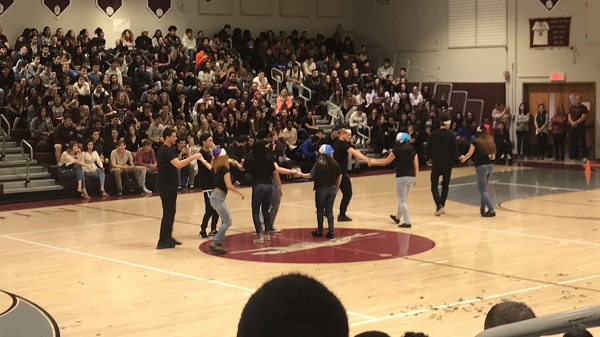 Hang on for a minute...we're trying to find some more stories you might like.
On Friday, April 13, Naugatuck High School held its second pep rally of the year to honor all the spring and winter sports athletes and club members. The first pep rally was held in the first half of the year for the Thanksgiving football game but only recognized fall sports. This one had a new twist and a different approach.
The Dream Team is responsible for the turnout of this pep rally; with a mixture of under and upperclassmen working together to put a different perspective on what this pep rally honored. The idea of the spring pep rally is completely new and was developed in order to help recognize seniors involved in the school community and the pep rally also included games and competitions that pitted different classes against one another. The games help build class spirit.
Mr. Zeigler is the Dream Director of The Dream Team, a team that was just introduced in the beginning of the 2018-19 school year and works on bringing together students at Naugatuck High School.
The preparation for this event started at the end of February where Mr. Zeigler rounded up students from each year to create a new pep rally. With the culmination of various classmen, new ideas were shared and produced in a span of about two months.
"I was so proud of all the students and all the work they put into it and yeah it totally fulfilled my expectations because it was different and it was fun," Mr. Zeigler exclaimed.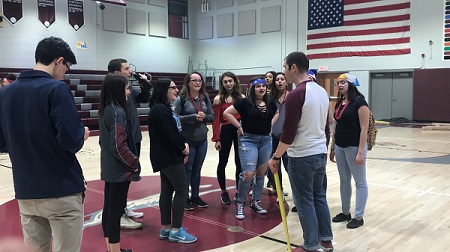 "It was really fun, everybody is so understanding, and we worked a lot. We worked really hard and the outcome is great, so yeah," said Angel Jimenez on the Dream Team.
Before D-Day, Mr. Zeigler had expressed his feelings towards the pep rally.
"I'm really excited for my students, mostly because they have done everything…I'm also a little nervous right because it's in front of the entire school."
After D-Day, in response to the turnout of the event, he commented, "I'm so proud and excited right now I'm really happy," he said
The spring pep rally started off with the recognition of winter and spring sport athletes along with clubs and student associations. Recognized seniors received roses upon being called up.
Boys and Girls indoor track, outdoor track, swimming and diving, basketball, golf, tennis, softball, and baseball were all announced for senior athlete recognition.
Naugatuck Youth Leaders, Excel Club, Newspaper/Journalism II, Science Olympiad, Chambers, National Honor Society council, 2018 Workers, Culinary, Percussion ensemble, Winterguard, Art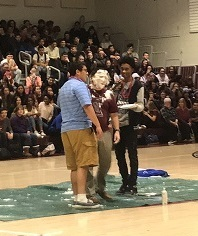 club, Theater club, Poetry Out Loud, and Student Council were also honored for senior club recognition.
Following the recognition, three teams of mostly seniors ran an obstacle course set across the whole gym. In the end, the semifinals consisted of Kelly Carr and Rachel Garcia with Carr eventually winning the race.
The Dream Team also performed the Bachata and Merengue, dance styles from Puerto Rico and the Dominican Republic. Their performance caught the students' attention and resulted in a few cheers of appreciation.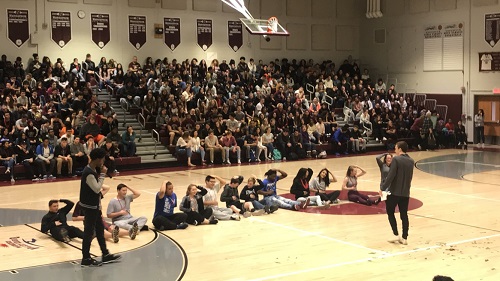 An epic tug of war between the four classes resulted with seniors winning. A fun session of Simon Says voiced by Brian Goggin along with a hula-hoop pass class-bonding activity lead up to the climax of the spring pep rally.
The Dream Team had announced at the beginning of the week that a teacher would receive a "pie in the face" based on the amount of votes students put in. Students submitted their names in order to have a chance to be selected to throw the actual pie.
Mr. Varanelli received the most votes out of Mr. Tenney and Mrs. Russell and was "creamed" by senior Sammy Ayash.
The pep rally ended off in a traditional cheer by class which resulted in the seniors being the loudest (like always) and that concluded the spring pep rally.
"It was different and the games were a nice addition to it," one student remarked.
Overall, it was a nice change to the original rundown of the past pep rallies. This one kept students watching to see what was next contrary to already expecting of what was to come.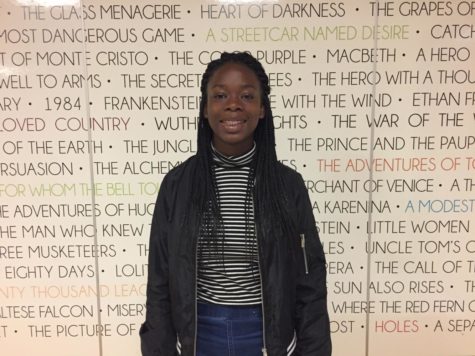 Nadage Beausejour, Staff Writer
I am in 12th grade. I would like to explore journalism, law, or psychology. I want to know more career-wise and I love to write. Plus, I am very curious...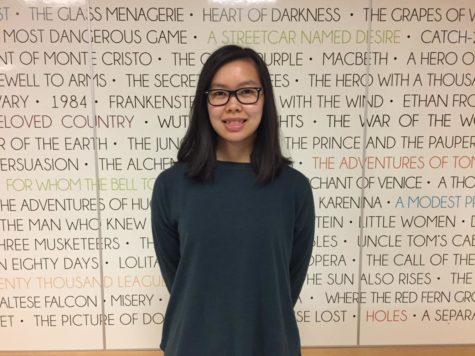 Marina Sounanthanam, Staff Writer
I am in 12th grade. I am undecided about my future career. However, I would like to work in Science. I took journalism in order to improve my writing skills...