Apple announces the release of new iPhones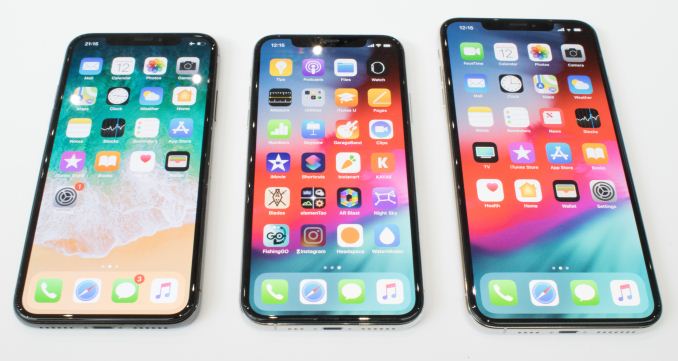 On September 11, Apple announced that they will be releasing three new iPhones, the iPhone XS, iPhone XS Max, iPhone XR, and the Apple Watch Series 4 at the Steve Jobs Theater in Cupertino, California.
The new phones start at $1,099 for the iPhone XS Max, $999 for the iPhone XS, and $749 for the iPhone XR.
The phones will have many new features. Phones will feature the new A12 Bionic chip. The bionic chip is the phone's core processor. It is like the brain of the phone.
The A12 bionic chip is supposedly 15% faster and uses up to 50% less power, which means the battery life will last longer.
According to Apple, "This is the smartest, most powerful chip in a smartphone, with our next-generation Neural Engine."
They also have a new custom OLED retina display, which is the brand name for Apple's screen displays. The OLED screens have a higher pixel density than Apple's older LCD screens.
The new phones should have the best display on the market with 458 pixels per inch, and the iPhone XS Max has a 2688×1242 resolution. They also have a 1,000,000 to 1 contrast ratio.
The iPhone XS Max has the largest screen display Apple has ever created on an iPhone. It has a 6.5 inch display as opposed to the 5.5 inch display on the older plus models. The iPhone XR has a screen display of 6.1 inches and the iPhone XS has a 5.8 inch screen display, which are also bigger than any of Apple's previous iPhone models.
The iPhone XR comes in 6 different colors: black, white, blue, coral, yellow, and (PRODUCT)RED.
When customers buy a product labeled "(PRODUCT)RED", Apple donates some of the proceeds to people that have been infected with the HIV/AIDS virus.
This is the first time in 5 years that Apple has released colored iPhones. When they released the iPhone 5C, the previous iPhone with bright colors, it was a cheaper option because of the cheaper materials used, and the iPhone XR is also the cheapest iPhone in this launch, starting at $749 for 64 gigabytes.
"It's bigger I feel like and no screen which I like. I've had the iPhone 7 Plus for two years now, so I wanted to upgrade to the iPhone XS Max, and the iPhone XR is the same as the iPhone 7 Plus, so I wanted a change. I am buying a gold one," said Aferdita Emini, a sophomore at Naugatuck High School.
The iPhone XS and iPhone XS Max can be pre-ordered on Apple's website, however, the iPhone XR is going to be available for pre-order on October 19.