The 2018 Naugy Hound Pound is back and stronger than ever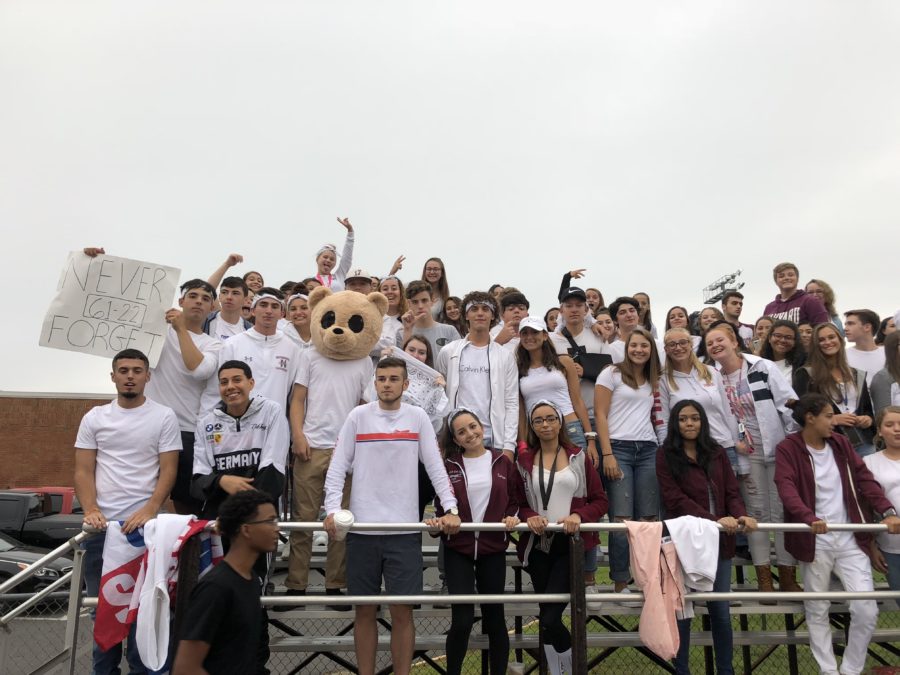 In early September of 2017, last year's principal advisory started up a social media platform to renew the Hound Pound.
The Naugatuck Hound Pound is a Twitter and Instagram handle that keeps students updated on sporting events and other activities allowing them to get involved around the school. The name "Hound Pound" is also how the student fan section refers to themselves.
The account has brought positivity to the NHS athletics community and helped to broaden the school spirit.
"The goal of the Hound Pound is to spread school spirit and support our sports teams. I believe the Hound Pound increases our classmates' participation in extracurricular activity," states Tristan Crelan, the manager of Hound Pound.
These past three weeks, the Naugatuck High School football team has been voted game of the week – the fans voted and then showed their support at the game. At the most recent game, Naugatuck vs. St. Paul, students showed up in all black with megaphones cheering for the home team. They refer to this as "Black-Out".
"Knowing that our team has the game of the week allows our team to give a little extra effort throughout practice and going into the game. We know that mostly everyone is watching," says Jay Mezzo, quarterback of the varsity football team. "The support from my classmates throughout the day gives me the confidence I need to get through the game."
While this season Hound Pound has been the biggest at football games they don't plan to stop there- all sports could use the support.
"We need the help of other students to spread awareness of all the sports events other than the football games. For example, on social media players of these other sports can collaborate with us to make themes and recruit crowds at their games," said Crelan.
Friday, September 28th at 7:00 p.m. Naugatuck plays Watertown. Show your support in Hound Pound fan section by wearing red, white and blue at Watertown High School!
Instagram @naugyhoundpound
Twitter @naugyhoundpound