Naugy football team is 3-0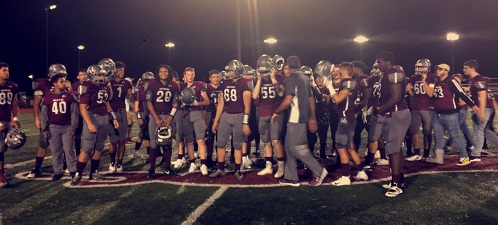 The Naugatuck Greyhounds played Saint Paul this past Friday September, 21 at Veterans Field. They rolled over their rivals with a final score of 53-12 moving to a record of 3-0, previously taking down Wolcott 14-0 and Crosby 54-0.
This past Friday night the Naugatuck football team continued to fire on all cylinders. Offense, defense, and special teams all played a part in this win over the Falcons.
Seniors include, Nick Airall, Dorean Chapman, Elijah Robinson, Zack Koslosky, Ty Coney, Charles Uszakiewicz, Jake Fazekas, Justin Papp, Jonathan Vincent, Jayden Anderson, Michael Amankwah, Michael Natkiel, Ray Hess, Andrew Balckom, Derek McGrath, Aaron Brito, Joe Poveromo, and Tyrell Allen.
Senior Nick Airall was voted by Maxpreps Player of the Game finishing with 58 rushing yards on 6 carries and a two touchdowns.
Other strong performances by Junior QB Jay Mezzo and Senior WR Elijah Robinson. Mezzo finished with 79 passing yards and a pair of TD's. One connecting with Senior WR Zack Koslosky for a 49 yard TD completion and 30 yard TD completion to Nick Airall.
Elijah Robinson and Zack Koslosky both strong special teams performances. Robinson brought two kickoff return touchdowns back for the Hounds while Koslosky added two blocked punts, one resulting in a safety.
Senior Michael Natkiel also added a rushing TD along side Junior Malachi Gatison adding one rushing TD of his own.
"We keep the same mentality going into every week. It doesn't matter what team we are playing or who we are going up against, we will always prepare the same," said Justin Papp, senior captain when asked about how the team prepares for each new game.
The Hounds will travel up to play Watertown this Friday at 7 pm. They are looking to move to 4-0 led by Head Coach David Sollazzo.