The Greyhounds defeat the Indians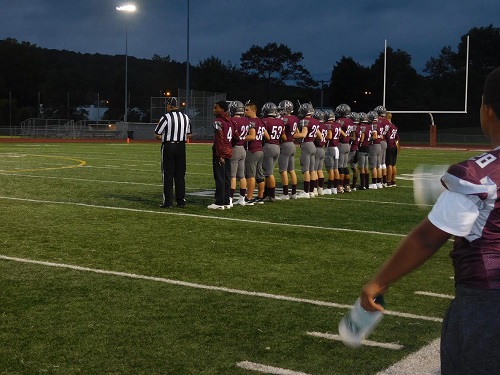 The Naugatuck Greyhounds took on the Watertown Indians last Friday in Watertown.
The Greyhounds came into the game with a lot of momentum after 3 consecutive blowout victories and a 53-12 win over the St. Paul Falcons the previous week.
The Indians were still looking for their first win, coming into week 4 with a home field advantage.
Naugatuck started the game off strong, shutting down the Indians offense the first drive.
Naugatuck's Jonathan Vincent blocked the game's first punt and recovered it, giving the offense great field position.
The Greyhounds drove into the endzone and made their PAT attempt.
Watertown drove Naugatuck's defense down the field, but the Greyhounds stopped them once again and set the tone for the rest of the game.
Naugatuck's defense did not let the Indians score the entire game and the offence ran up the score.
The final score was 49 – 0 .
Naugatuck has the Oxford Wolverines this Friday at home and chance to go into the bye week 5-0.