Maddie, the therapy dog, visits NHS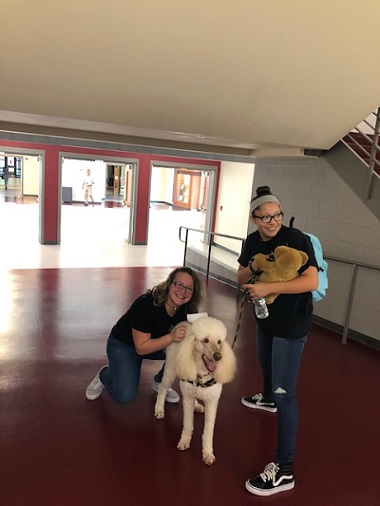 There's a dog in the school! Over the past few weeks you may have seen a white poodle around the school. That's Maddie, a certified therapy dog that Naugatuck High School has brought in to interact with students of all grades.
Maddie, a  nine year old standard poodle, has been working as a therapy dog for about five and a half years alongside her handler, Daryl Masone.  
You may have called her a service dog before but that's not the case. Maddie is strictly a therapy dog.
A service dog is trained to help one specific person who may have a disability and need assistance immediately. Maddie, on the other hand, was trained  to provide affection, comfort and happiness to multiple people at once.
Masone has been rescuing dogs, especially poodles for over 12 years with her husband, Pete Masone. Maddie was one of the dogs she had rescued.
"She was kind of on the wild side, wasn't trained formly," Masone told The Greyhound News.
Maddie began her basic dog training; initially she learned just basic manners.
After a few more classes she had become a Canine Good Citizen. With her progress Masone decided to go even further and sign  Maddie up with an organization called "Pet Partners".
According to their website, Pet Partners' mission is to improve human health and well-being through the human-animal bond.
Over a duration of 13 weeks of school, the two were observed of their knowledge and eventually earned certification. After that process Masone and Maddie began their visits to schools and many other locations to provide comfort.
Maddie visits to school and interacts beautifully with young kids. She helps them overcome their social problems and brings a smile on many faces.
"Children are more relaxed, I think she brings them happiness"
Mrs. Norcross, a social worker, here at Naugatuck High school has wanted to bring in a dog for a while to experience what other schools in Naugatuck have had with Maddie.  Mrs. Norcross allows multiple students access to Maddie at a time.
Throughout flex many groups come in and out  and Maddie is available during flex every Thursday in Mrs. Norcross office.
Don't be scared; come in, she's very sweet!