Two NHS students work on behalf of gay teens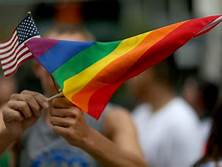 Kathrine Brown and Taylor Siefer
January 17, 2019
Naugatuck High School seniors Taylor Siefer and Kathrine Brown have approached the Naugatuck community head-on with a heart-wrenching topic.
Gay teens in U.S. schools are often subjected to such intense bullying, that they're unable to receive an adequate education. LGBT youth identified bullying problems as the second most important problem in their lives, compared to heterosexual and cisgender youth identifying classes/exams/grades.
Each time a student identifying as LGBTQ+ is verbally or physically harassed, they are 2 ½ times more likely to self-harm and are four times more likely to commit suicide than their counterparts.
These two students have addressed bullying in the LGBTQ+ community and have made a commitment to educating the faculty, the students, and the greater Naugatuck Community so that students can feel safe at school and in Naugatuck.
With this, they went to individual health classes, psychology, and human rights classes, drama classes, as well as civics classes in order to educate students about what is occurring every day in the world they live in, and what they can do to stop it.
With around 60% of faculty members, Taylor and Kathrine led a professional development meeting where they taught adults how to make their classroom a safe-space for LGBTQ+ people, and how to address certain situations. They taught faculty members how to properly address members of the community and how to make them feel as though they belong in the classroom setting just as much as their heterosexual counterparts.

To further their mission, they will be making efforts towards bettering the community of Naugatuck, and in this they will be changing the bridge to the color red and developing a day to further awareness and participation of outsiders.