Over one billion raised for burned out Notre Dame Cathedral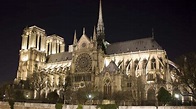 Hang on for a minute...we're trying to find some more stories you might like.
On April 15, 2019 the Notre-Dame Cathedral in Paris, France burned uncontrollably for a few hours before firefighters were able to control it. The 850-year old cathedral burned for many hours but invaluable items, including the Crown of Thorns, were saved before they burned.
The Notre-Dame is the most visited monument in Paris, France and was built during the 12th century. The wood roof was 100-meters and will be extremely difficult to reconstruct it in the same form.
The cathedral is one of the admirable french gothic architecture and attract about 13 million people a year.
One of the worlds most known books The Hunchback of Notre-Dame by Victor Hugo, which took place in the fifteenth century Paris, was set mostly in the cathedral.
Authorities believe the  problem from the fire was from the fire alarms not being in sync.
The fire is still under investigation for what caused the fire and whether the fire alarm is a part of the problem.
The extent of the damage is still being investigated but we are sure that the 12,000 oak beams are destroyed.
The Cathedral have reported that nearly $1 billion dollars has been raised to rebuild Notre-Dame. Many donations have been received from popular companies like Apple, o Chanel, Dior and L'Oreal. Many catholics also donated a lot of money to rebuild Notre-Dame.
Scrambling to try to start rebuilding the cathedral for the 2024 summer olympics that take place in Paris, France. Architects and engineers have told president Emmanuel Macron to slow down.